THE D'OYLY CARTE OPERA COMPANY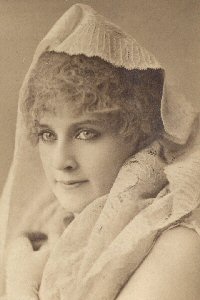 Louise Montague
Louise Montague (1885-86)
[Born New York City 1859, died New York City, 15 Mar 1910]
Louise Montague, whose real name was Laura Keene Stuart, was engaged by John Stetson to tour New England as Yum-Yum with Carte's Fourth American Mikado Company in December 1885. She also appeared as Yum-Yum with Carte's Second Company in Boston the week of December 28, 1885, after Laura Clement left but the cast, but before Ida Mülle who joined the Second Company in January 1886. It's unclear whether she returned to the Fourth Company:she was not in the cast in late February when they appeared in New Haven.
Miss Montague's career on the New York Stage dated to 1879. That year she appeared as Josephine in H.M.S. Pinafore with at Henry Miner's New Theatre in the Bowery.
In 1881 The Police Gazette reported that, following a nationwide search, Louise Montague, described as a burlesque actress and singer, had been awarded $10,000 after being judged to be the most beautiful woman in America. She was subsequently engaged by Adam Forepaugh to appear on tour in his heavily publicized pageant Lalla Rookh. Miss Montague's stage career extended into the 1890s.
---
M Index | "Who Was Who" Homepage
---