THE D'OYLY CARTE OPERA COMPANY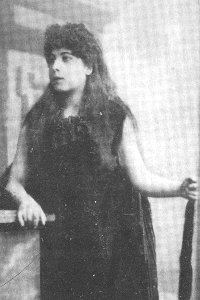 Annie Montelli as Mad Margaret in Ruddigore
Annie Montelli (1881, 1885, 1887)
[Born London 1862]
Annie, or Agnes, Montelli was the daughter of long-time D'Oyly Carte chorister T. J. Montelli. Presumably a chorister for portions of the early 1880s, her first named part was Isabel in The Pirates of Penzance with Mr. D'Oyly Carte's "C" Company in Brighton in December 1881.
She later appeared on tour with Mr. D'Oyly Carte's "A" Company from March to December 1885 as Melissa in Princess Ida and (from June forward) as Hebe in H.M.S. Pinafore and Gladys Harvey in the companion piece Round and Square. "A" Company was disbanded on December 19, 1885.
In August 1886, Annie Montelli appeared at the Theatre Royal, Edinburgh, and (later) on tour, as Princess Irene in the comic opera Glamour. Glamour toured until the middle of November.
When a new D'Oyly Carte "A" Company was launched to tour The Mikado from January 17 to February 26, 1887, Miss Montelli rejoined to play Pitti-Sing on that tour. She then transferred to Mr. D'Oyly Carte's "C" Company, where, in March, she appeared as Mad Margaret in the first provincial production of Ruddigore. She left the part in June, replaced by Kate Forster who had played Margaret in New York. It was Annie Montelli's last role with the D'Oyly Carte organization.
She later appeared on the London Stage as Mrs. Meeks in The Future Mrs. Ransome (a one-act comedy at Avenue Theatre, November 1894). Two of her siblings, brother F. E. and sister Kathy, also toured with D'Oyly Carte companies.
---
M Index | "Who Was Who" Homepage
---