THE D'OYLY CARTE OPERA COMPANY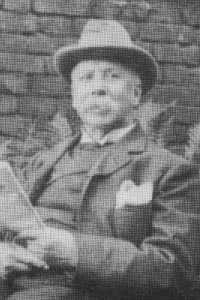 T. J. Montelli
T. J. Montelli (1879-92)
[Born London c.1825, died Caterham, Surrey 23 Apr 1912]
Little is known of the early career of T. J. Montelli (real name Thomas John Horne) who was in his 50s and 60s while a chorister with the D'Oyly Carte at the Opera Comique and Savoy. We do know that he appeared as Max in Marguerite, a one-act operetta by T. Thorpe Pede, produced at the Alexandra Theatre, Camden Town, in 1873.
Montelli was a bass chorister with the D'Oyly Carte organization from at least 1879 to 1892. His first role was Bob Beckett in H.M.S. Pinafore with Mr. D'Oyly Carte's "Second London" Company in Shoreditch and Camden Town in September and October 1879. He shortly transferred to Carte's main Company at the Opera Comique, where he appeared as Bill Bobstay in Pinafore from November 1879 to February 1880. He remained with the D'Oyly Carte chorus at the Opera Comique and Savoy for the next twelve years.
He then left the Savoy and, over the next three years, appeared as an extra in the Olympic pantomime Dick Whittington (December 1892-February 1893), Black Tom in Poor Jonathan at the Prince of Wales's (June 1893), Granfer West in The Little Squire (Lyric, April-May 1894), the Doctor in a single matinee performance of The Two Orphans (Lyric, July 1894), and an extra in The Bric-a-Brac Will (Lyric, October-December 1895).
Three of Montelli's children appeared on tour with the D'Oyly Carte organization. Daughter Annie was a principal mezzo-soprano in 1885 and 1887. Daughter Kathy and son Frederick were touring choristers.
---
M Index | "Who Was Who" Homepage
---