THE D'OYLY CARTE OPERA COMPANY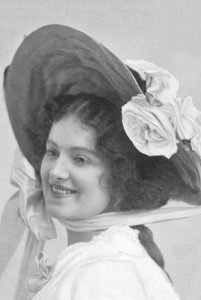 Hilda Moody as Hilda Branscombe in Three Little Maids
Hilda Moody (1896)
[Born Redruth, Cornwall]
Hilda Moody was the sister of Fanny Moody and hence the sister-in-law of Charles Manners. She joined D'Oyly Carte Opera Company "D" in March 1896 as Lisa in an early provincial tour of The Grand Duke. In October of that year Company "D" added Utopia Limited to its repertoire with Miss Moody starring as Princess Zara. She left the D'Oyly Carte organization when the Company was disbanded in November 1896.
Over the next seven years she appeared more or less regularly on the London Stage, her roles including O Mimosa San in The Geisha (Daly's, 1897-98), Antonia in A Greek Slave (Daly's, 1898-99), Rose Brierly in A Gaiety Girl (Daly's, 1899), Poppy in San Toy (Daly's, 1899-1901), Hilda Branscombe in Three Little Maids (Apollo and Prince of Wales's, 1902-03), and Barbara in Madame Sherry (Apollo, 1903).
She later toured with the Moody-Manners Opera Company, returning to London with them in 1907 as Anne Page in The Merry Wives of Windsor and as Musetta in La Boheme.
---
M Index | "Who Was Who" Homepage
---