THE D'OYLY CARTE OPERA COMPANY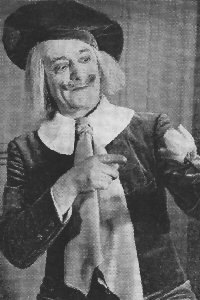 C. William Morgan as Major Murgatroyd in Patience
C. William Morgan (1920-50)
[Born Monmouth c.1889, died Worcester 1 Jul 1974]
Charles William Morgan served the D'Oyly Carte organization for over thirty years as chorister, understudy, small part player, and, later, as assistant stage manager. He joined the D'Oyly Carte "New" Opera Company chorus in April 1920, remaining with the "New" Company for the remainder of its existence:until June 1927. During that stretch he appeared on a regular basis as First Yeoman in The Yeomen of the Guard, Francesco in The Gondoliers (both January-June 1922), Major Murgatroyd in Patience (July 1925-June 1927), and Annibale in The Gondoliers (July 1926-June 1927). He also filled in on occasion for Martyn Green as Counsel to the Plaintiff in Trial by Jury (June 1924) and for Ivan Menzies as General Stanley in The Pirates of Penzance, Reginald Bunthorne in Patience, Robin Oakapple in Ruddigore, and the Duke of Plaza-Toro in The Gondoliers (1926-27).
With the closure of the "New" Company, Morgan transferred to the main Company where he immediately assumed two small roles (the Associate in Trial by Jury and First Citizen in The Yeomen of the Guard) that would be his for virtually all of the next twenty-three years. He also appeared often as Major Murgatroyd in Patience between 1927 and 1935 and between 1942 and 1950, and less frequently as the Counsel (1928 and 1941) and the Judge (1937-38, 1947, 1949) in Trial by Jury, General Stanley in Pirates (1945-46), Bunthourne in Patience (1946-47), the Lord Chancellor in Iolanthe (1946-47), Ko-Ko in The Mikado (1943-45), Jack Point in Yeomen (1945-47), and Francesco (1942-45), Annibale (1930-31 and 1944-46), and the Duke (1943-44) in The Gondoliers.
During his last two seasons with the Company (August 1948-July 1950) Morgan served both on stage and as assistant stage manager. After leaving the D'Oyly Carte he continued to be involved with Gilbert & Sullivan, producing the operas for amateur societies throughout the country.
---
M Index | "Who Was Who" Homepage
---