THE D'OYLY CARTE OPERA COMPANY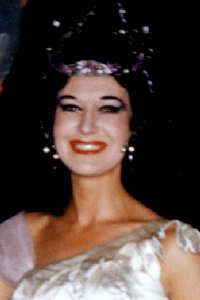 Joy Mornay as Sacharissa in Princess Ida
Joy Mornay (1954-56, 1959-65, 1965-66)
[Born Cricklewood, North London]
Prior to joining the D'Oyly Carte Opera Company, Joy Mornay studied at the Guildhall School of Music and Drama, appeared in pantomime, and did two tours in the Vivian Ellis musical play And so to Bed.
She joined the D'Oyly Carte chorus in May 1954. In September of that year Miss Mornay took over the small part of Kate in The Pirates of Penzance. She remained in the Carte chorus until December 1956, when she and his husband of one year, baritone Jon Ellison, left the Company to work in Glasgow pantomime. They subsequently worked in television, eventually returning to London. She also toured in revivals of Lilac Domino and Chu Chin Chow.
She returned to the D'Oyly Carte chorus in August 1959, and over the next five-and-a-half seasons appeared in several smaller parts:Giulia in The Gondoliers (1961-65), Sacharissa in Princess Ida (1961-64), First Bridesmaid in Trial by Jury (1963-65), and Fleta in Iolanthe (occasional substitutions in 1963-64). She left the Company again in February 1965 due to illness, but returned briefly for chorus duty during the London season at the Saville Theatre (December 1965-January 1966), after which she retired permanently from the stage.
---
M Index | "Who Was Who" Homepage
---