THE D'OYLY CARTE OPERA COMPANY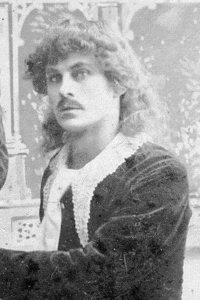 Allen Morris as Archibald Grosvenor in Patience
Allen Morris (1881-84, 1885-87, 1907-23)
[Born Wales c.1854, died 1933]
James Allen Morris joined a D'Oyly Carte touring company soon after graduatinf from music college in 1881, presumably in the chorus. His first named part was Archibald Grosvenor, a role he assumed in October 1882 with Mr. D'Oyly Carte's No. 2 "Patience" Company and played through June 1884, when the Company was disbanded. His next role with the Carte organization was the Mikado of Japan in The Mikado, with Carte's "D" Company (November 1885-January 1886 and August 1886-April 1887). In April 1887 he joined a Carte touring company on the European continent, appearing as Grosvenor and the Mikado in Germany, Austria, Holland, and Denmark until September 1887. He was back with "D" Company for a short time (November-December 1887), playing the Mikado and Major Murgatroyd in Patience, then left the D'Oyly Carte organization for the next nineteen years.
He traveled to Australia for a time, appearing with the J. C. Williamson organization as the Mikado between 1890 and 1892, but ultimately returned to the D'Oyly Carte for the First London Repertory Season, serving in the chorus at the Savoy from February to August 1907. He then went on tour with Carte's Principal Repertory Opera Company, appearing as Second Yeoman in The Yeomen of the Guard and Giorgio in The Gondoliers. In April 1908, the Company returned to the Savoy for the Second London Repertory Season. Between July and October he appeared as Morgan Llewellyn in A Welsh Sunset (companion piece to H.M.S. Pinafore) and in October filled in for Henry Lytton as the Mikado.
He was back on tour with the Repertory Opera Company from October 1908 until January 1923, as chorister, understudy, and small part player--appearing as the Associate (1908-09, 1915-20, and 1921-23) and the Judge (1909-15, 1917 and 1920-21) in Trial by Jury, Doctor Daly in The Sorcerer (1917), Samuel in The Pirates of Penzance (1913-14 and 1919-20), Major Murgatroyd in Patience (1908-23), Strephon in Iolanthe (1917), Sir Roderick in Ruddigore (1921), Second Yeoman (1908-09), First Citizen (1909-23) and the Lieutenant of the Tower (1911) in The Yeomen of the Guard, Giorgio in The Gondoliers (1908-21), and Pennyfather in Desprez and Cellier's After All (1908-09).
According to D.G.D. (D. Graham Davis) who wrote Morris's obituary in The Gilbert & Sullivan Journal (September 1933), Morris also played Sir Marmaduke in The Sorcerer, Captain Corcoran in H.M.S. Pinafore, Colonel Calverley in Patience, the Lord Chancellor in Iolanthe, King Gama in Princess Ida, Jack Point in Yeomen, and Giuseppe in The Gondoliers. Morris was married to fellow-Savoyard Nell Raymond. After retiring from the D'Oyly Carte in 1923 he produced the operas for several amateur societies.
---
M Index | "Who Was Who" Homepage
---