THE D'OYLY CARTE OPERA COMPANY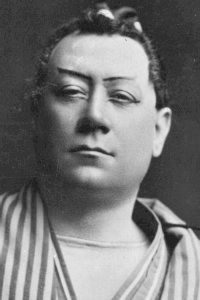 Strafford Moss as Nanki-Poo in The Mikado
Strafford Moss (1897-1913)
[Died Oct 1941]
Tenor Strafford Moss first appeared in a D'Oyly Carte program on tour from August to December 1897 with Carte's Company "C." Presumably a chorister in most of the operas in an extensive repertoire, Moss took the small parts of Leonard Meryll in The Yeomen of the Guard and Francesco in The Gondoliers.
He then transferred to the Savoy where he was in the chorus for The Beauty Stone (May-July 1898), and filled in briefly as the Defendant in Trial by Jury in December 1898. From July to September 1899 he was back on tour as Oswald in Haddon Hall with Carte's Company "D." In October 1899 he joined Carte's Company "E," appearing as Oswald and Leonard until November when Haddon Hall was dropped and Trial by Jury was added. From November 1899 to February 1900 his roles were Leonard and the Defendant, then Company "E" began a tour of The Rose of Persia only with Moss as the Physician-in-Chief. The Rose of Persia was joined by Patience from December 1900 to June 1901 but Moss did not have a named part in the aesthetic opera.
From July 1901 to May 1902 Company "E" toured The Emerald Isle only with Moss as Dr. Fiddle, D.D. From January 1903 to July 1907 Moss was with Carte's "Repertoire" Company, appearing primarily in secondary tenor roles. In 1903-04, his parts were Hilarion in Princess Ida, First Yeoman in The Yeomen of the Guard, Francesco in The Gondoliers, and Bob Berkeley in the Bridgeman & Cellier curtain raiser Bob (a part he also appeared in briefly with Company "E" in the summer of 1903). In January 1904 he added the Defendant in Trial by Jury. He would play Hilarion, First Yeoman, Francesco, and the Defendant until December 1906 (Bob was dropped from the repertoire in 1904). He also appeared for a spell as Luiz in The Gondoliers (July1904-January 1905), and filled in from time to time in 1905 in the larger roles of Nanki-Poo in The Mikado, Colonel Fairfax in The Yeomen of the Guard, and Marco in The Gondoliers.
In December 1906 he was promoted temporarily to first tenor roles, appearing as Ralph Rackstraw in H.M.S. Pinafore, Frederic in The Pirates of Penzance, the Duke of Dunstable in Patience, Earl Tolloller in Iolanthe, Cyril in Princess Ida, Nanki-Poo, Fairfax, and Marco. In February 1907 Pacie Ripple rejoined the Company and Moss reverted to the Defendant, Hilarion, First Yeoman, and Francesco. Moss was loaned to the Savoy in March 1907 to fill in briefly as Marco, but returned to the Repertory tour shortly thereafter.
In July 1907 (after a month's vacation), the D'Oyly Carte Repertory Opera Company resumed touring with Moss once more as principal tenor:Defendant (shared with H. Blake Johnston and, later, Henry Herbert), Ralph, Frederic, the Duke, Tolloller, Cyril, Nanki-Poo, Fairfax, and Marco. In April 1908 the Company went to the Savoy for the Second London Repertory Season. The Season opened with The Mikado, Moss as Nanki-Poo, but by May he was replaced by Henry Herbert who would then take the lead in each of the subsequent operas. Moss was relegated to Griffith David in A Welsh Sunset (companion piece for Pinafore and Pirates, July-October), but filled in for Herbert as Nanki-Poo and Ralph on occasion in September and October.
When Carte revived the touring Repertory Company in October 1908, Moss was a principal tenor once more, appearing as the Defendant, Ralph, Frederic, Duke, Tolloller, Cyril, Nanki-Poo, Fairfax, and Marco. But when the London season ended in March 1909, Herbert joined the tour and Moss's roles were reduced to the Defendant, Frederic, Duke, Tolloller, Cyril, and Fairfax. He would leave the D'Oyly Carte Opera Company in September 1913.
Moss had several later appearances on the London Stage, including Mr. Manhattan (Prince of Wales's, 1916), Arlette (Shaftesbury, 1917-18), Violette (Lyric, 1918), and The Naughty Princess (Adelphi, 1920-21). He recorded two songs (duets with George Grossmith, Jr.) from The Naughty Princess for Columbia in 1920. Moss's last London role was King Priam in Helen! (an A. P. Herbert opera bouffe founded on La Belle Helène, Adelphi, 1932).
---
M Index | "Who Was Who" Homepage
---