THE D'OYLY CARTE OPERA COMPANY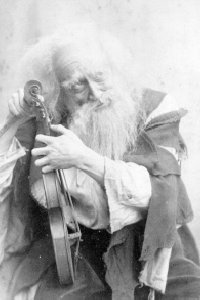 George Mudie as Mendicant in La Cigale
George Mudie (1878)
[Born 11 Oct 1858, died Edenbridge, Kent 28 Dec 1918]
James George Mudie appeared as a young man with Carte's touring Comedy-Opera Company as the Foreman of the Jury in Trial by Jury when it played with The Sorcerer from March to August 1878, and then as Bob Beckett in the first provincial production of H.M.S. Pinafore, as well as Major Keye in Two Sharps and a Flat and Charles Faircloth in Congenial Souls, the two companion pieces that played with Pinafore (September-December 1878). It was his only engagement with D'Oyly Carte.
Mudie was later hired by the directors of the Comedy-Opera Company in 1879. They had launched a rival production of H.M.S. Pinafore at the Imperial Theatre and later at the Royal Olympic, and engaged him to play small parts in the curtain raiser (George Pennyfeather in After All) and afterpiece (Peter Bloom in Breaking the Spell). Mudie later assumed the part of Ralph Rackstraw in Pinafore. The run soon closed in October 1879.
Mudie appeared often in London and the provinces throughout the 1880s and '90s. His roles included Baron von Hornburg in Desprez and Bucalossi's Delia (on tour, 1889) and Comte de Brissac in The Duke's Diversion (on tour, 1892). The Duke's Diversion was a comedy opera with book by Mudie himself and music by fellow D'Oyly Carter Michael Dwyer. It was produced on a tour managed by Leonora Braham. Mudie also wrote a musical duologue, Mr. Greenlea's Courtship (1891, also with music by Dwyer), and a Farce, His Landlady (Parkhurst, 1892).
Mudie was married to Lily Pounds, who toured briefly with D'Oyly Carte in 1888. His son by a previous marriage, George Mudie, Jr., appeared at the Savoy in 1902-03.
---
M Index | "Who Was Who" Homepage
---