THE D'OYLY CARTE OPERA COMPANY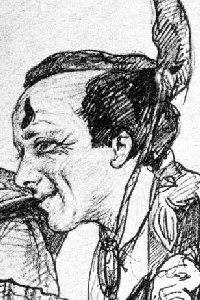 John A. Muir as the Mikado of Japan in The Mikado
John A. Muir (1887-88, 1890)
John A. Muir's first part with the D'Oyly Carte organization was Major Murgatroyd in Patience with a Company touring Germany and Austria in early 1887. He swapped the Major for Reginald Bunthorne in Patience in May of that year, then returned to Great Britain in August, joining Carte's Company "D" on tour from September to November 1887 as the Major and as the Mikado of Japan in The Mikado. In November 1887 he returned to the Continent, appearing there as the Mikado, Bunthorne, and Sir Joseph Porter in H.M.S. Pinafore, for the remainder of the tour. When the tour ended in February 1888 Muir joined Carte's "C" Company on tour as Sir Joseph, but left the Carte organization the following month.
He was rehired by Carte to appear on January 7, 1890, as Don Alhambra in the first American production of The Gondoliers at the Park Theatre, New York. The production was a popular, critical, and financial disaster. It closed in February, and when it was remounted at Palmer's Theatre later that month Muir was no longer in the cast.
Muir returned to Britain, appearing briefly as Don Alhambra on tour with D'Oyly Carte Opera Company "B" in April 1890, and, later, in the familiar role of the Mikado with D'Oyly Carte Opera Company "D" on tour from August to December 1890.
---
M Index | "Who Was Who" Homepage
---