THE

D'OYLY CARTE OPERA COMPANY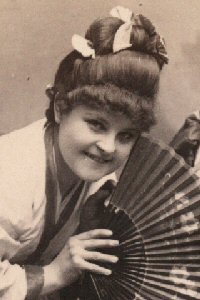 Ida Mülle as Yum-Yum in The Mikado
Ida Mülle (1886, 1887)
[Born Boston, Massachusetts, died New York City 5 Aug 1934]
Ida Mülle started her career as a child actress in May 1879, appearing as Josephine with Murphy's Miniature Opera Pinafore Company at the Boston Museum. She later appeared as the Lady Jane in a juvenile Patience with Scanlan & Braham's Miniature Opera Company at the Boston Theatre and then at Wallack's in New York in the summer of 1882.
The following year she appeared on tour with an adult company, E. E. Rice's, as Phyllis in Iolanthe, then made a big hit as Cupid in Offenbach's Orpheus and Eurydice (Bijou Opera House, New York, 1883-84).
Her first engagement with the D'Oyly Carte Opera Company came in January 1886, when she took over the part of Yum-Yum with Carte's Second American Mikado Company in Boston. In May 1886 she played the same role with Carte's Third Company, like the Second under the management of John Stetson. She was reengaged by Stetson the following year to play Rose Maybud on tour with D'Oyly Carte's Third American Ruddygore Company in the spring of 1887.
Among her successes was the prima donna role of Serena in Richard Stahl's light opera Said Pasha (1889-92). She also appeared in Hoyt's A Milk White Flag and in Chu Chin Chow (Manhattan Opera House, 1917-18), among many shows. She played her last part on stage in 1926 in The Squall.
With the advent of motion pictures she was seen in several silent films. Miss Mülle served on the council of the Episcopal Actors' Guild and was a member of the American Actors Fund. Her death in August 1934 was precipitated by a fall she sustained three months before.