THE D'OYLY CARTE OPERA COMPANY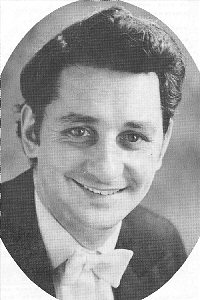 Peter Murray
Peter Murray (a.m.d., 1968-70)
Peter Murray graduated from St. Andrew's University in 1962, winning the University music prize that year for his work as a conductor. After six years teaching music in Scotland, he was appointed assistant musical director of the D'Oyly Carte Opera Company.
Murray spent two seasons (September 1968-August 1970) with the D'Oyly Carte as assistant musical director. He then left to join Thomas Round and Donald Adams in "Gilbert & Sullivan for All," and served as Professor of Harmony at Trinity College of Music in London.
"Gilbert & Sullivan for All" toured the British Isles, North America, Australia, New Zealand, and the Far East, and recorded versions of nine of the operas. Murray conducted all of them:Cox and Box, Trial by Jury, H.M.S. Pinafore, The Pirates of Penzance, Iolanthe, The Mikado, Ruddigore, The Yeomen of the Guard, and The Gondoliers:as well as a selection of Sullivan rarities record by the same group in 1972.
Murray also composed incidental music for a production of Shakespeare's Julius Caesar at the Palace Theatre, Watford, and was musical director for A Funny Thing Happened on the Way to the Forum at the Phoenix Theatre, Leicester.
---
M Index | "Who Was Who" Homepage
---