THE D'OYLY CARTE OPERA COMPANY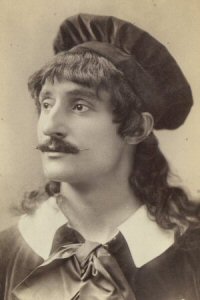 John E. Nash as Archibald Grosvenor in Patience
John E. Nash (1880)
[Born England, died Los Angeles 5 Nov 1934]
John E. Nash's career may have begun and ended with Gilbert & Sullivan. He began with D'Oyly Carte in the First American production of The Pirates of Penzance:appearing for Furneaux Cook as Samuel at the Standard Theatre, New York, in February 1880, before taking the role as his own from late March until the end of the run in New York and on tour in June. It was his only engagement with the Carte organization.
He soon made his mark as a stage manager as well as a performer, producing Patience at the Bijou Opera House, New York, in 1882 with Lillian Russell starring in the title role and Nash himself as Archibald Grosvenor. Over the next eight years or so he worked principally for the James Duff Opera Company, appearing as Tom Strutt in Dorothy (1888) and stage managing The Red Hussar in 1890-91.
He moved to California in 1897, producing weekly operas at the Tivoli, San Francisco, for a number of years. His last production was H.M.S. Pinafore at the Carthay Theatre, Los Angeles, in 1932.
---
N Index | "Who Was Who" Homepage
---