THE D'OYLY CARTE OPERA COMPANY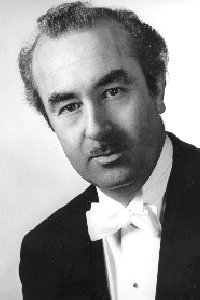 Royston Nash
Royston Nash (a.m.d., 1970-71; m.d., 1971-79)
[Born Southampton 23 Jul 1933]
When Royston Hulbert Nash was sixteen years old he joined the Royal Marines School of Music, where he remained for six years, gaining his L.R.A.M. in conducting. He then spent a year at the Royal Academy of Music. He was then promoted to Bandmaster with the Royal Marines, and for three years was Director of Music to the Commander-in-Chief, Mediterranean, when he conducted the Malta Choral Society. Later, as Director of Music at the Royal Marines School of Music in Deal, Captain Nash had the opportunity to conduct a section of the Royal Marines Band on stage at Sadler's Wells Theatre during a D'Oyly Carte performance of the first act of H.M.S. Pinafore in March 1970.
Six month later (in September 1970) he joined the D'Oyly Carte Opera Company as assistant musical director, advancing to musical director in March 1971 upon the departure of James Walker. He remained its musical director until April 1979. During his tenure he conducted D'Oyly Carte recordings of The Mikado (1971), Iolanthe (1974), Trial by Jury (1975), Utopia Limited (1976), The Grand Duke (1976), The Gondoliers (1977), Cox and Box and The Zoo (1978), and The Yeomen of the Guard (1979). Several of these recordings are noteworthy for their bonus tracks of additional less well-known Sullivan orchestral works: Trial includes the overture, "Macbeth" and incidental music to Henry VIII. Utopia uses Sullivan's "Imperial March" in place of an overture. Gondoliers provides Sullivan's "Marmion" overture. Yeomen gives us Ballet Suite No. 1 from Victorian & Merrie England. Nash also conducted the 1973 D'Oyly Carte film of H.M.S. Pinafore.
After leaving the D'Oyly Carte Opera Company Nash traveled to America where he was for many years conductor of the Cape Cod Symphony.
---
N Index | "Who Was Who" Homepage
---