THE D'OYLY CARTE OPERA COMPANY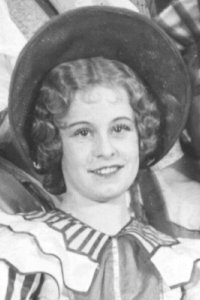 Kathleen Naylor in H.M.S. Pinafore
Kathleen Naylor (1933-38)
[Born Cardiff, Wales 10 Nov 1912, died Plainfield, New Jersey 17 Sep 1974]
Kathleen Naylor joined the D'Oyly Carte Opera Company chorus in March 1933. In August 1935 she assumed the small parts of Isabel in The Pirates of Penzance, Fleta in Iolanthe, and Ada in Princess Ida. She also filled in on occasion for Elizabeth Nickell-Lean as the Lady Saphir in Patience, Ruth in Ruddigore, and Vittoria in The Gondoliers during the 1935-36 season.
Her roles in 1936-37 were First Bridesmaid in Trial by Jury, Isabel, Fleta, Sacharissa in Princess Ida (shared with Miss Nickell-Lean), and Ruth in Ruddigore. And in 1937-38, her last season with the Company, she played First Bridesmaid, Isabel, Saphir, Fleta, Sacharissa, Peep-Bo in The Mikado, Ruth in Ruddigore, and Vittoria. She also deputized that season as Tessa in The Gondoliers.
Miss Naylor left the D'Oyly Carte Opera Company and the professional stage in July 1938, married and moved to the United States. She may be seen as Peep-Bo in the film version of The Mikado that was released the following year. She later appeared on occasion in community theatre in Plainfield and Westfield, New Jersey.
---
N Index | "Who Was Who" Homepage
---