THE D'OYLY CARTE OPERA COMPANY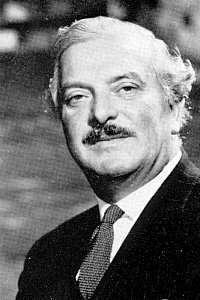 Herbert Newby
Herbert Newby (1947-50, 1951-55)
[Born Oldham, Lancashire 26 Jan 1914, died London 2 Jan 1979]
Tenor Herbert "Bert" Newby joined the D'Oyly Carte Opera Company chorus in January 1947 following the demobilization of his Royal Air Force unit. He was soon understudy to principal tenor roles, and in the two season spanning 1947-49 filled in on occasion as the Defendant in Trial by Jury, Ralph Rackstraw in H.M.S. Pinafore, Nanki-Poo in The Mikado, Leonard Meryll in The Yeomen of the Guard (1947-48), and Marco in The Gondoliers (1948-49). He also appeared on a more or less regular basis in 1948-49 as Francesco in The Gondoliers (a part he shared with Thomas Hancock).
In July 1949, following the departure of Thomas Round, Newby took over three principal tenor roles:the Defendant, Ralph, and Nanki-Poo. He would play them for the entire season (while also filling in on occasion as First Yeoman in The Yeomen of the Guard and Marco in The Gondoliers), but would leave the D'Oyly Carte for a year when the season ended in July 1950.
When Newby returned in September 1951 it was as principal understudy and small parts player. He appeared regularly for the next four seasons as the Defendant, Leonard, and Francesco, while filling in from time to time as Frederic in The Pirates of Penzance, the Duke of Dunstable in Patience, Earl Tolloller in Iolanthe, and Luiz in The Gondoliers. Newby dropped out of the chorus in March 1955. He was then tabbed to replace Norman Meadmore as assistant stage manager in April 1955, but returned to the stage for one evening as an emergency Tolloller on April 21, 1955. Newby served as assistant stage manager until April 1956, then as assistant director of productions. In October 1956 he became the Company's stage director, then, in September 1960, its director of productions, a position he held until March 1970. At that point he became Company business manager, a post he would hold until his death in 1979.
Newby is survived by his wife, former D'Oyly Carte contralto Ceinwen Jones, whom he married in New York in 1955.
---
N Index | "Who Was Who" Homepage
---