THE D'OYLY CARTE OPERA COMPANY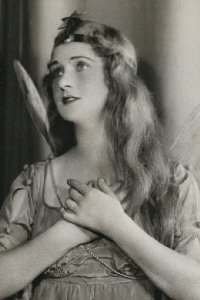 Elizabeth Nickell-Lean as Iolanthe in Iolanthe
Elizabeth Nickell-Lean (1931-37)
[Born Liverpool 11 May 1908, died London 20 Jan 1986]
Elizabeth Gertrude Nickell-Lean made her first stage appearance at age seven at a charity performance in Liverpool. She was reportedly offered a contract by the Liverpool Repertory Theatre at the time but her parents thought better of the idea. She later studied singing and German Lieder in Manchester and London, and sang at important concerts throughout England before joining the D'Oyly Carte Opera Company as a member of the chorus in November 1931. Within a few months she was playing smaller named parts, appearing that first season as Isabel in The Pirates of Penzance, Peep-Bo in The Mikado, Ruth in Ruddigore, and Giulia in The Gondoliers.
In August 1932 she swapped Giulia for Vittoria in The Gondoliers. For the two seasons spanning 1932-34 she would appear regularly as Isabel, Peep-Bo, Ruth, and Vittoria. She also filled in on occasion for Marjorie Eyre in the principal soubrette roles of Iolanthe in Iolanthe, Melissa in Princess Ida, Pitti-Sing in The Mikado, Mad Margaret in Ruddigore, and Phoebe Meryll in The Yeomen of the Guard.
In August 1934 she added her first major part, Iolanthe, to her regular duties, and took a share of Ada in Princess Ida that season as well. For 1935-36 she would yield Iolanthe back to Miss Eyre, taking the small part of Leila in Iolanthe instead, add Lady Saphir in Patience, swap Isabel for Kate in Pirates, and take Sacharissa in place of Ada in Princess Ida. She would continue to hold down Peep-Bo, Ruth (Ruddigore, now shared with Kathleen Naylor), and Vittoria, and filled in from time to time in the principal mezzo-soprano parts.
Elizabeth Nickell-Lean would reclaim Iolanthe in August 1936. In 1936-37, her last season with the Company, she would appear as Kate (Pirates), Saphir, Iolanthe, Sacharissa, Peep-Bo, and Vittoria. She left the Company in July 1937, but appeared, under the name of Elizabeth Paynter, as Pitti-Sing in the film version of The Mikado released in 1939. She may also be heard as Peep-Bo on the D'Oyly Carte's 1936 recording of The Mikado.
---
N Index | "Who Was Who" Homepage
---