THE D'OYLY CARTE OPERA COMPANY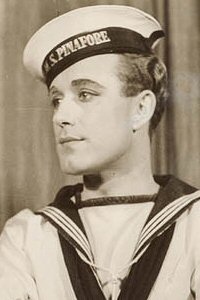 Max Oldaker as Ralph Rackstraw in H.M.S. Pinafore
Max Oldaker (1932-33)
[Born Devonport, Tasmania 17 Dec 1907, died Launceston, Tasmania 2 Feb 1972]
Maxwell Oldaker was trained in the piano but soon realized his future lay in his singing. He was engaged by the Westminster Glee Singers, then on tour in Tasmania, and made his professional debut with them in a program of ballads, songs, and snatches at the Palace Theatre, Sydney, in May 1930. After completing a tour of the Far East, the Oldaker arrived in England, resumed his voice training, undertook a series of auditions, and was engaged for a tour of The Chocolate Soldier, beginning in August 1931, to sing in the chorus and understudy the tenor lead.
While playing in London, Oldaker was auditioned (for a second time) by Rupert D'Oyly Carte and invited to join the Company. He served in the D'Oyly Carte Opera Company chorus from May 1932 to July 1933, appearing from December 1933 forward in a "small role of warder in The Yeomen of the Guard." Dissatisfied with his prospects for advancement with the D'Oyly Carte, he left in July 1933 to begin a tour of a musical fantasy called He Wanted Adventure. Oldaker later appeared in London in Kern and Hammerstein's Three Sisters (Drury Lane, 1934), before playing Turnkey in The Beggar's Opera (Drury Lane, 1935) and Second Cameraman in Anything Goes (Palace, 1935-36). His big break came as Paul Trevor in Noel Coward's Operette (His Majesty's, 1938). This was followed by Bruce Lockwood in Bobby Get Your Gun (Adelphi, 1938). During the 1930s Oldaker also appeared on tour, did considerable concert and broadcast work, and began to take some small roles in British films.
He then returned to Australia where he was engaged by the J. C. Williamson Company for a 1940-41 tour of Gilbert & Sullivan. Initially hired as second tenor (his first role was Luiz in The Gondoliers), he had great success of Frederic in The Pirates of Penzance and Cyril in Princess Ida, and would eventually take over the parts of Ralph Rackstraw in H.M.S. Pinafore, Richard Dauntless in Ruddigore, Alexis in The Sorcerer, and appeared late in the tour as Nanki-Poo in The Mikado. Oldaker was also pressed into service in the baritone part of Strephon in Iolanthe. In future years he would also appear as Marco in The Gondoliers.
Oldaker had become a star in G&S, Viennese operetta, and musical comedy. As a romantic leading man, he enjoyed great success with the double part of Pierre and the Red Shadow in Sigmund Romberg's The Desert Song, and with Rudi Kleber in Ivor Novello's The Dancing Years.
He would return to London in 1958 where he was given the part of Karpathy in My Fair Lady, and was principal understudy to Rex Harrison as Professor Higgins, a part Oldaker felt he was especially well suited for. He went on for the ailing Harrison in July of that year but, after two critically and popularly acclaimed performances, Harrison made a miraculous return and Oldaker was never permitted to fill the role again. To compound his misery, the role of Higgins in Australia was given by American management to another performer, despite the pleas of the Williamson Company.
In July 1959 Oldaker returned to Australia in order to care for his aging parents. He continued to work as a singer, actor, and director for theatre companies and radio stations until his death in 1972 at the age of 64. His notes for an autobiography have formed the basis for Charles Osborne's book "Max Oldaker: Last of the Matinee Idols" (London, Michael O'Mara, 1988).
---
O Index | "Who Was Who" Homepage
---