THE D'OYLY CARTE OPERA COMPANY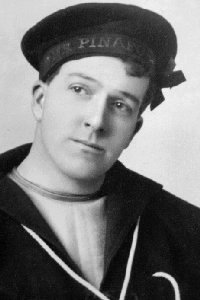 Derek Oldham as Ralph Rackstraw in H.M.S. Pinafore
Derek Oldham (1919-22, 1929-30, 1934-35, 1936, 1936-37)
[Born Accrington 29 Mar 1887, died Portsmouth 20 Mar 1968]
It is difficult to imagine that Derek Oldham, so strongly associated with the D'Oyly Carte Opera Company and the tenor roles in Gilbert & Sullivan, served less than six seasons with the D'Oyly Carte. He was certainly a popular favorite on both sides of the Atlantic and in the recording studio, where he sang tenor leads in no less than nineteen full and abridged HMV recordings of the operas:Trial by Jury (1928, Defendant), The Sorcerer (1933, Alexis), The Pirates of Penzance (1920, 1929, 1931, Frederic), Patience (1930, Duke of Dunstable), Iolanthe (1922 [part], 1929, Tolloller), Princess Ida (1924, 1932, Hilarion), The Mikado (1926, 1936, Nanki-Poo), Ruddigore (1924, 1931, Richard Dauntless), The Yeomen of the Guard (1920, 1928, 1931, Colonel Fairfax), The Gondoliers (1927, 1931, Marco).
Born John Stephens Oldham, Derek Oldham made his first appearance on the stage at the London Pavilion in April 1914 as Julien in the operetta The Daring of Diane. He appeared as Bumerli in The Chocolate Soldier (Lyric, September-October 1914), then the following month joined the Scots Guards, receiving a commission in the East Lancashire Regiment in December 1915. After distinguished service in World War I, in which he was awarded the Military Cross for gallantry, he was demobilized and joined the D'Oyly Carte Opera Company in August 1919. During his first season he appeared as Alexis, Tolloller, Cyril, Nanki-Poo, Fairfax, and Marco. In 1920 he added Ralph Rackstraw in H.M.S. Pinafore, Frederic, and Richard Dauntless to his duties, and in 1921 he swapped Cyril for Prince Hilarion in Princess Ida.
In the summer of 1922, Oldham left the D'Oyly Carte to go into musical comedy. He would become a leading singing-actor at Drury Lane and other West End theatres throughout the 1920s. It was there that he met his wife, Winnie Melville, who would herself have a brief engagement with D'Oyly Carte Opera Company as principal soprano. Their marriage ended in divorce.
Oldham would return to the D'Oyly Carte from time to time, but never for very long. He appeared with the Company on tour and at the Savoy from August 1929 to January 1930, playing Ralph, Frederic, Tolloller, Hilarion, Nanki-Poo, Fairfax, and Marco. And from September 1934 to February 1935 he played the same roles on the Company's American tour. In May 1936 he made a guest appearance as Hilarion in Princess Ida at Sadler's Wells, and from August 1936 to July 1937 he honored the Company with a full season as Ralph, Frederic, Tolloller, Hilarion, Nanki-Poo, Fairfax, and Marco. The season included another long American tour and Oldham's presence was a condition demanded by the American promoters.
In his later years Oldham played in many revivals of musicals and on the legitimate stage as well. His last appearance on the London Stage was as Dr. Stoner in Verdict (Strand, 1958). He also appeared in several films between 1934 and 1957.
Oldham remained devoted to Gilbert & Sullivan, and in 1924 was one of the first to join the Gilbert & Sullivan Society as a paying member. He attended Society meetings regularly and in 1947 was elected Vice-President. For the last ten years of his life he lived in retirement in Hampshire, but he visited London frequently and saw several D'Oyly Carte performances there up to the time of his death in 1968.
---
O Index | "Who Was Who" Homepage
---