THE D'OYLY CARTE OPERA COMPANY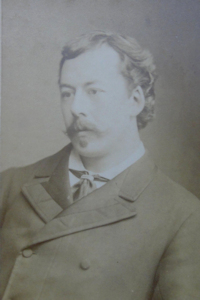 George Olmi
George Olmi (1885-86)
Baritone George Olmi was a regular comic opera performer on the New York and New England Stages from at least March 1881, when he appeared at New York's Bijou Opera House in a revival of Aubran's Olivette, until at least November 1890, when he was General Boum in The Grand Duchess of Gerolstein in Boston.
His first Gilbert & Sullivan role appears to have been Sir Marmaduke Pointdextre in a McCaull Opera Company revival of The Sorcerer starring Lillian Russell (Bijou Opera House, October 1882-January 1883, and later, Casino Theatre, April-May 1883). His only D'Oyly Carte engagement came with Carte's Second and Third American Mikado Companies under the management of John Stetson. Olmi appeared as Pish-Tush for the duration of the Second Company's run at Boston's Globe Theatre (November 1885-March 1886), then joined the Third Company in the same part for April and May 1886 engagements in New York and smaller New England cities.
Olmi's subsequent roles in non-D'Oyly Carte productions included Sergeant Meryll in Rudolph Aronson's authorized production of The Yeomen of the Guard (Casino, October 1888-January 1889) and the Baron of Campotasso in W. S. Gilbert's adaptation of The Brigands (Casino, May-September 1889). When Aronson's Company took The Brigands to Boston (September-October 1889) and returned to The Casino (January-February 1890), Olmi played Falsacappa.
---
O Index | "Who Was Who" Homepage
---