THE D'OYLY CARTE OPERA COMPANY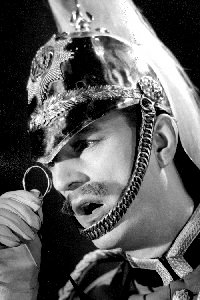 Leonard Osborn as the Duke of Dunstable in Patience
Leonard Osborn (1937-40, 1946-59)
[Born Tooting, London 11 Nov 1914, died London 28 Sep 1994]
Leonard Alfred George Osborn worked as a chemist before auditioning for the D'Oyly Carte Opera Company at the urging of a Company member who had seen him in amateur Gilbert & Sullivan productions. He joined the Company as a tenor chorister in November 1937. He was soon appearing as First Yeoman (and, on occasion, Leonard Meryll) in The Yeomen of the Guard, and beginning in September 1938, as the Defendant in Trial by Jury and Francesco in The Gondoliers as well. By then, he was sharing the Defendant and Leonard with Thomas Hancock. He also filled in for John Dean in the 1939-40 season as Earl Tolloller in Iolanthe.
Osborn left the Company in September 1939 when its tour was cancelled, but returned in February 1940 a month or so after its resumption, appearing regularly over the next months as the Defendant. He joined the Royal Air Force in July 1940.
On May 30, 1946, at War's end, he gave a performance as Marco in The Gondoliers, and on June 8 appeared as Colonel Fairfax in Yeomen, then rejoined the Company later that month as principal tenor. Over the next two months Osborn appeared as Tolloller and Nanki-Poo in The Mikado. It would be the only time he'd play Nanki-Poo with the Company. From September 1947 to November 1959 his roles were the Defendant in Trial (1946-49, 1950-52), the Duke of Dunstable in Patience (1946-59), Tolloller in Iolanthe (1946-59), Colonel Fairfax in The Yeomen of the Guard (1946-59), Marco in The Gondoliers (1946-53), Mr. Box in Cox and Box (1947-52), Richard Dauntless in Ruddigore (1948-59), and Cyril in Princess Ida (1954-59).
Osborn may be heard as the Defendant, Ralph Rackstraw in H.M.S. Pinafore, Frederic in The Pirates of Penzance, Nanki-Poo, Marco, Richard Dauntless, Fairfax, Tolloller, the Duke in Patience, and Cyril in D'Oyly Carte Decca recordings made between 1949 and 1955.
He left the D'Oyly Carte in November 1959 and went into the retail business in Surrey, from time to time thereafter directing amateur productions. In March 1977 he returned to the D'Oyly Carte Opera Company as production director, producing Princess Ida for the Sadler's Wells special Jubilee season. He served as production director until August 1980.
For a detailed account of Osborn's life and career, see Tony Joseph's booklet "Leonard Osborn, 'Dauntless he...'," published by the author's own Bunthorne Books, Bristol, in 2007.
---
O Index | "Who Was Who" Homepage
---