THE D'OYLY CARTE OPERA COMPANY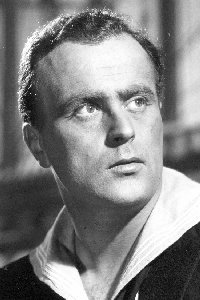 David Palmer as Ralph Rackstraw in H.M.S. Pinafore
David Palmer (1963-67)
[Born London 7 Apr 1936, died Eppelheim, Germany 8 Jul 2015]
David Palmer spent some years with the Royal Air Force in Somerset before winning a scholarship to the Royal Academy of Music. While training at the Academy, he was a finalist in the Ferrier and Queen's Prize Competitions, and appeared with the Handel Opera Society and the Welsh National Opera. In his last year at the Academy he joined the Choir of the Queen's Chapel of the Savoy, that service leading to his audition with the D'Oyly Carte Opera Company.
He joined the D'Oyly Carte in September 1963, immediately assuming the small tenor parts of Mr. Box in Cox and Box, Leonard Meryll in The Yeomen of the Guard, and Francesco in The Gondoliers, and giving one performance as the Duke of Dunstable in Patience. As understudy to principal tenors, Palmer filled in on occasion that first season as Ralph Rackstraw in H.M.S. Pinafore, Frederic in The Pirates of Penzance, Earl Tolloller in Iolanthe, Colonel Fairfax in The Yeomen of the Guard, and Luiz and Marco in The Gondoliers.
In June 1965, following the departure of Thomas Round, Palmer was promoted to principal tenor. Over the next three seasons he appeared regularly as Box, Ralph, Tolloller, Cyril in Princess Ida, Richard Dauntless in Ruddigore, Leonard, and Marco. During the 1966-67 season, his last with the Company, he filled in briefly for Potter as Nanki-Poo in The Mikado. He left the Company in July 1967.
Palmer was married for a time to D'Oyly Carte soprano Ann Hood. He may be heard on the D'Oyly Carte's 1964 recording of The Yeomen of the Guard (as First Yeoman and Leonard Meryll), the 1965 Princess Ida (as Cyril), and the 1966 Sorcerer (as Alexis). He was also the voice of Richard Dauntless in the 1967 Halas and Batchelor cartoon version of Ruddigore.
David Palmer later moved to Germany, where he died in 2015.
---
P-Q Index | "Who Was Who" Homepage
---