THE D'OYLY CARTE OPERA COMPANY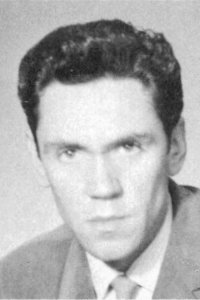 Clifford Parkes
Clifford Parkes (1965-69)
[Born Staffordshire]
Clifford Parkes had studied for four years at the Guildhall School of Music when he was discovered on a television program and immediately asked to audition for the D'Oyly Carte Opera Company. He was engaged as a chorister and joined the Company in December 1965, and appeared in the 1966 film version of The Mikado.
Parkes took over the bass parts of Foreman of the Jury in Trial by Jury and Bob Beckett in H.M.S. Pinafore in April 1967, following the departure of Anthony Raffell, and added Second Yeoman in The Yeomen of the Guard in September of that year. He played these three roles until he left the Company to go to Royal Opera, Covent Garden in August 1969. He also filled in on occasion as the Mikado in The Mikado (1966-67), the Usher in Trial by Jury (1967-68), Go-To in The Mikado (1967-69), Old Adam in Ruddigore (1967-68), Sergeant Meryll in Yeomen (1967-68), Giorgio in The Gondoliers (1967-68), the Pirate King in The Pirates of Penzance (1968-69), and Colonel Calverley in Patience (1968-69).
He later performed with "Gilbert & Sullivan for All," appearing as Second Yeoman on their 1972 recording of The Yeomen of the Guard.
---
P-Q Index | "Who Was Who" Homepage
---