THE D'OYLY CARTE OPERA COMPANY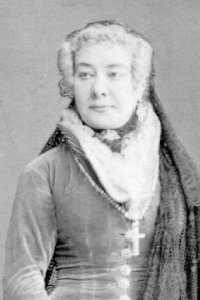 Mrs. Howard Paul as Lady Sangazure in The Sorcerer
Mrs. Howard Paul (1877-78)
[Born Dartford, Kent c.1833, died London 6 Jun 1879]
Mrs. Howard Paul was born Isabelle Hill. Using the stage name "Miss Featherstone," she made her stage debut in 1853 as the Strand as Tom Tug in Charles Dibdin's ballad opera The Waterman. She frequently played Captain Macheath in Gay's The Beggar's Opera, in which, according to The New York Times "as her voice was adapted to the music in the tenor register, and her acting was at once droll and vivacious, she made the character highly entertaining, and restored popularity to the time-worn work."
She appeared in The Beggar's Opera at the Strand Theatre, London in 1853, and again in a revival at the Haymarket the following year. It was about this time that she married Howard Paul, a journalist whose comic magazine Diogenes, a would-be rival to Punch, failed shortly after its creation. The Howard Pauls then appeared together in a farce of his authorship, My Neighbor Opposite, and a comic duologue, Locked Out. It was highly successful and they produced it throughout England. Through most of the 1860s they appeared together in his varied "entertainments," visiting America a number of times in the process.
Mrs. Paul appeared many times apart from her husband, notably as Lady Macbeth at Drury Lane (1869), in the title role in a version of The Grand Duchess of Gerolstein (on a number of occasions in the early 1870s), and as Mistigris in Babil and Bijou at Covent Garden (1872-73).
In November 1877 she was engaged by Richard D'Oyly Carte to create the part of Lady Sangazure in the first production of The Sorcerer at the Opera Comique. She played it with much success for the entire run, ending in May 1878. It was originally intended that Mrs. Paul would take the part of Hebe in the next opera, H.M.S. Pinafore, but her health would not permit it. Gilbert and Sullivan then reduced the part dramatically and gave it to relative newcomer Jessie Bond.
Mrs. Howard Paul died suddenly at her residence in London on June 6, 1879. She was just 46 years old.
---
P-Q Index | "Who Was Who" Homepage
---