THE D'OYLY CARTE OPERA COMPANY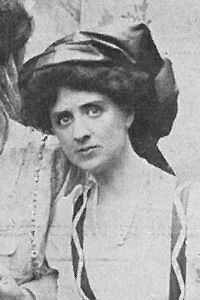 Beatrice Perry in The Gondoliers
Beatrice Perry (1892-98)
[Born London 6 Jul 1865, died 5 Sep 1944]
The older sister of D'Oyly Carte principal soprano Florence Perry, Beatrice Mary Perry joined her sister on tour with D'Oyly Carte Opera Company "E" in 1892, appearing in the small parts of Fleta in Iolanthe and Agatha in The Vicar of Bray starting in March and June, respectively. The Vicar of Bray was dropped from the repertoire in March 1893, and Iolanthe likewise in May of that year.
Beatrice Perry later transferred to the main Company at the Savoy, joining her sister there, and over the next four years took a number of small parts. She created Zitella in The Chieftain (December 1894-March 1895) and Martha in The Grand Duke (March to July 1896). Her other roles were Mrs. Wallaby in Quite an Adventure (for the last week of December 1894), Peep-Bo in The Mikado (August 1896-February 1897), She in Weather or No (August 1896-April 1897), Maria in After All! (May-June 1897), and Charlotte in a new version of The Grand Duchess of Gerolstein (December 1897-March 1898).
She then left the D'Oyly Carte and the Savoy and, along with her sister, traveled to Australia, where she appeared in an April 1899 revival of Iolanthe at Her Majesty's Theatre, Sydney.
---
P-Q Index | "Who Was Who" Homepage
---