THE D'OYLY CARTE OPERA COMPANY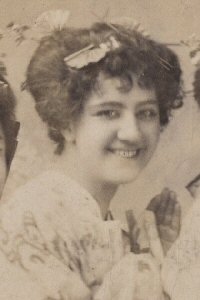 Florence Perry as Yum-Yum in The Mikado
Florence Perry (1890-95, 1895, 1895-98)
[Born London 13 Jul 1869, died Durban, South Africa 6 Dec 1949]
Florence Julia Perry made her theatrical debut in 1887 as Phyllis Tuppitt in Cellier's Dorothy at the Prince of Wales's Theatre, and subsequently went on tour in The Red Hussar and Doris. Upon her return to London she was engaged by D'Oyly Carte, touring with Carte's Company "E" from November 1890 to April 1893. While on tour she appeared as Yum-Yum in The Mikado (November 1890-April 1893), Gianetta in The Gondoliers (November 1890-June 1892), Phyllis in Iolanthe (September 1891-April 1893), Winifred in The Vicar of Bray (June 1892-March 1893), and Phoebe Fairleigh in Billee Taylor (April 1893).
In May 1893 she was called to the Savoy where she created the part of Milly in Jane Annie, then succeeded Decima Moore as Bab in July. Next she created Princess Kalyba in Utopia Limited (October 1893-June 1894), Bianca in Mirette (July-August and October-November 1894), and Dolly Grigg in The Chieftain (December 1894-March 1895).
She then left the D'Oyly Carte to appear at the Trafalgar as Clementine in Baron Golosh (April-June 1895). Miss Perry briefly rejoined the D'Oyly Carte in July 1895, appearing on tour as Josephine in H.M.S. Pinafore, Yum-Yum, and both Dolly Grigg and Rita in The Chieftain with Carte's Company "B." She soon returned to London, however, where she filled in for Marie Tempest as Adele in An Artist's Model (Lyric, August-September 1895).
She was back with the D'Oyly Carte at the Savoy in November 1895 as Yum-Yum in a revival of The Mikado. She the created the part of Lisa in The Grand Duke and filled in on occasion as Julia Jellicoe (March-July 1896), played Yum-Yum again (July 1896-February 1897), was the original Princess Lucilla Chloris in His Majesty (February-April 1897), played Phoebe Meryll in the first revival of The Yeomen of the Guard (May-November 1897), and was Wanda in The Grand Duchess of Gerolstein (December 1897-March 1898).It was her last role with the D'Oyly Carte organization.
Later that year she traveled to Australia, appearing at Her Majesty's Theatre, Sydney, in Iolanthe in April 1899. She soon returned to England, making her last appearances on the London Stage in The Thirty Thieves (Terry's) and H.M.S. Irresponsible (Globe) in 1901.
Miss Perry's older sister, Beatrice, also appeared with the D'Oyly Carte Opera Company. For more on Florence Perry's life, see Tony Joseph's book "Emmie Owen and Florence Perry: 'Maidenly Perfection'" (Bunthorne Books, 2005).
---
P-Q Index | "Who Was Who" Homepage
---