THE D'OYLY CARTE OPERA COMPANY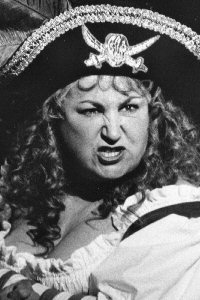 Jill Pert as Ruth in The Pirates of Penzance
Jill Pert (1979-82)
[Born Chingford, Essex c.1948]
After moving to Canada with her family at age fifteen, Jill Pert began voice training, eventually earning a Bachelor of Music degree from the University of Toronto. She continued her studies at the London Opera Centre with a grant from the Canada Council, making her first appearance at Sadler's Wells in Offenbach's Robinson Crusoe.
She then returned to Canada where she sang with the Ottawa Summer Festival and the Canadian Opera Company, as well as in concerts and oratorio. In 1978 she sang the Queen of the Fairies in Iolanthe with the Toronto Gilbert & Sullivan Society. The D'Oyly Carte was at the time touring North America, and, at a party hosted by the Toronto G&S Society, Miss Pert met Royston Nash and Leonard Osborn and was invited to audition. She traveled to London, auditioned in October 1978, and joined the Company in January 1979.
She was soon understudying the principal contralto roles, and over the next three years filled in from time to time for Patricia Leonard as Lady Sangazure in The Sorcerer, Little Buttercup in H.M.S. Pinafore, Ruth in The Pirates of Penzance, the Queen of the Fairies in Iolanthe, Katisha in The Mikado, Dame Hannah in Ruddigore, Dame Carruthers in The Yeomen of the Guard, and the Duchess of Plaza-Toro in The Gondoliers. She also assumed the small roles of Inez in The Gondoliers (in October 1979) and Edith in The Pirates of Penzance (in September 1980).
Miss Pert remained with the D'Oyly Carte Opera Company until its last night in February 1982. Since leaving the D'Oyly Carte she has had an active career in opera and musical theatre. Her Gilbert & Sullivan roles included the Duchess with Bristol Old Vic (1985) and Katisha at the Barbican (1986 and 1987), and Lady Blanche in Ken Russell's lamentable English National Opera production of Princess Ida at the London Coliseum (1992-93).
She took part in many productions of the "New D'Oyly Carte" between 1988 and 2002, appearing as Dame Carruthers, the Queen of the Fairies, the Duchess, Ruth, and Katisha, as well as in Orpheus in the Underworld. She may be heard on their CD recordings of The Gondoliers (1991, Duchess), Iolanthe (1991, Queen of the Fairies), Yeomen (1993, Dame Carruthers), and Patience (1995, Lady Jane). She also played Katisha in a "New D'Oyly Carte" 1992 video production. Miss Pert appeared with the London Savoyards as the Duchess in 1991, and at the Covent Garden Festival as the Counsel for the Plaintiff (!) in Trial by Jury in 1996.
---
P-Q Index | "Who Was Who" Homepage
---