THE D'OYLY CARTE OPERA COMPANY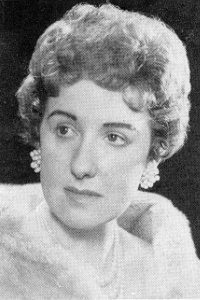 Johanna Peters
Johanna Peters (1961-62)
[Born Glasgow 3 Jan 1932, died London 27 May 2000]
Scottish contralto Johanna Peters studied in London at the National School of Opera, where she soon attracted a following with the Park Lane Group and the Oxford University Opera Club. She made her professional debut with the Glyndebourne Festival Opera in 1959 as Marcellina in The Marriage of Figaro, earning acclaim for a witty yet humane characterization.
It was her brilliant comedic acting, no doubt, that prompted the D'Oyly Carte Opera Company to engage her to play Lady Blanche as a guest artist in a new production of Princess Ida (November 1961-April 1962). It was her only stint with the D'Oyly Carte Opera Company but one of several experiences with Gilbert & Sullivan. She later appeared at the Tower of London as Dame Carruthers in Anthony Besch's 1962 and 1964 Festival of the City of London productions of The Yeomen of the Guard. She was the Duchess of Plaza-Toro in The Gondoliers with Scottish Opera in 1968-69, and in 1982 played Dame Hannah in the Brent Walker video production of Ruddigore with Vincent Price. She sang the Duchess and Dame Hannah again at the Barbican in June 1987 and February 1988, respectively.
But her greatest successes were in the field of grand opera. She appeared in leading roles with Glyndebourne Festival Opera in 1959, 1962, 1970, 1971, 1977, and 1979. She also sang with the English Opera Group on its 1964 Russian tour, and appeared at Covent Garden in Boris Godunov that year as well.
In 1983 she began to expand her interests beyond performance. For some years she helped her close friend and companion Anne Wood run Phoenix Opera, and she and Miss Wood were later made trustees of the Peter Pears Singing Award.
Miss Peters went on to become a prominent teacher at the Guildhall School of Music and Drama, where she was made head of vocal studies. She died in 2000, leaving her considerable estate to Glyndebourne for the benefit of emerging talent. The legacy has also been used to create a new award, named for Miss Wood and Miss Peters, enabling a young Glyndebourne singer to study at the post-graduate level.
---
P-Q Index | "Who Was Who" Homepage
---