THE D'OYLY CARTE OPERA COMPANY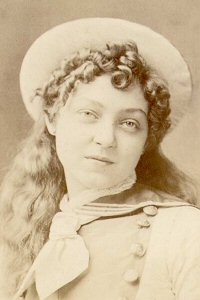 Emilie Petrelli as Josephine in H.M.S. Pinafore
Emilie Petrelli (1879-80, 1881)
[Born Covent Garden, London 1859, died Anerley, Kent 23 Jan 1925]
In 1874, Miss Emilie Petrelli, real name Emily Mary Jane Peters, appeared at Brighton Theatre Royal and in concert at the Pavilion. She mounted her own concert in 1875, subsequently enrolling at the London Conservatoire of Music before an engagement with the Covent Garden proms in 1878, and later at the Royal Aquarium.
After the blow-up between D'Oyly Carte and the directors of the Comedy-Opera Company, Emilie Petrelli was engaged by the latter group to play Josephine in the rival H.M.S. Pinafore at the Imperial Theatre, in August 1879. By September, however, she had left the rival production and joined Mr. D'Oyly Carte's "1st 'Pinafore' Company" as Josephine. She later played Josephine with Carte's "2nd London" Company (November-December 1879) and "2nd 'Pinafore' Company" (December 1879-March 1880). While with "2nd 'Pinafore'," Mdlle. Petrelli played Mabel in Great Britain's single copyright performance of The Pirates of Penzance at the Royal Bijou Theatre, Paignton, on December 30, 1879. She left the "2nd 'Pinafore'" Company in March 1880.
In January 1881 she returned to the D'Oyly Carte, this time at the Opera Comique where she played Mabel for the last three months of Pirates. She was reportedly offered the part of Patience in the next opera but turned it down as it lacked the vocal opportunities of her earlier roles.
After leaving the D'Oyly Carte her London roles included Princess Desiree in The Black Crook (Alhambra, December 1881-April 1882), Dorothy in The Vicar of Bray (Globe, September-October 1882), and (much later) Hilda South in King Kodak (Terry's, 1894). "Mdme. Petrelli, R.A.M." was teaching singing in Belvedere, Kent, in 1909.
---
P-Q Index | "Who Was Who" Homepage
---