THE D'OYLY CARTE OPERA COMPANY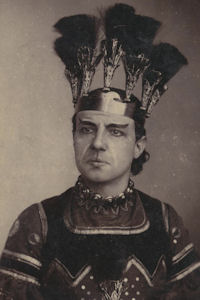 J. Brandon Phillips as Tarara in Utopia Limited
J. Brandon Phillips (1883-85, 1889-96)
[Born Islington, London 6 Sep 1859, died Los Angeles, California 9 Oct 1934]
Philip John Holden joined the D'Oyly Carte organization as a touring chorister in the early 1880s, possibly in 1883, for in February 1884 he married fellow chorister Rose Estelle. His first named parts were Guron in Princess Ida and Dr. Draper in the one-act companion piece Round & Square, both with Mr. D'Oyly Carte's "A" Company in October and November 1885. He then left the Carte organization for a time--appearing instead with a company organized by Sydney Herbert Basing.
Upon his return, he would be known by the stage name J. Brandon Phillips. As Phillips he toured with D'Oyly Carte Opera Company "B" for most, if not all, of the years spanning January 1889 and December 1896.He reportedly appeared in a small but unspecified part in The Yeomen of the Guard in 1889, and in December 1890 deputized briefly for Cairns James as the Duke of Plaza-Toro in The Gondoliers. Phillips again filled in as the Duke, and as Jack Point in The Yeomen of the Guard as well, in September 1891, following James's departure and before Charles R. Walenn joined the Company later that month.
Over the next five years he took a number of smaller parts--Sing-Song Simeon in Haddon Hall (November 1892-February 1894), Tarara in Utopia Limited (February 1894-February 1895), Pedro Gomez in The Chieftain (February-August 1895), Annibale in The Gondoliers (September 1895-April 1896), John Dory in The Vicar of Bray (January-April 1896), Viscount Mentone (April-July 1896) and Doctor Tannhauser (July-December 1896) in The Grand Duke, and Leonard Meryll in The Yeomen of the Guard (July-December 1896). He also filled in from time to time as Wilfred Shadbolt in Yeomen (November 1889 and July 1892), Rupert Vernon in Haddon Hall (November-December 1893), and Sir Joseph Porter in H.M.S. Pinafore and Ko-Ko in The Mikado (both April 1895). Photographic evidence suggests he also appeared as Don Alhambra in The Gondoliers and Sir George Vernon in Haddon Hall at some point.
After leaving the Company in late 1896, Phillips toured the British Isles as part of a duet. First known as the "Savoyards," the pair then changed its name to Brandon & Bishop, then broke up in December 1897. For a few years thereafter Phillips toured the music halls as a solo actor and vocalist. Some time after the turn of the century he opened a Gramophone Shop in Wimbledon. In 1914 he and his wife came to America to direct an amateur operatic company in Salt Lake City, Utah, in The Chimes of Normandy. They remained in the United States, later moving to Los Angeles.
---
P-Q Index | "Who Was Who" Homepage
---