THE D'OYLY CARTE OPERA COMPANY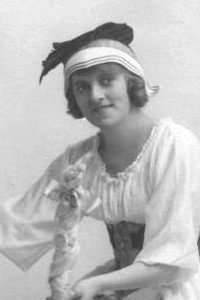 Margaret Philo as Phoebe Meryll in The Yeomen of the Guard
Margaret Philo (1921-25)
[Born Hungerford 2 May 1900, died Ipswich 1992]
Margaret Philo joined the D'Oyly Carte "New" Opera Company chorus in April 1921. In June 1921 she assumed the small parts of Isabel in The Pirates of Penzance and Vittoria in The Gondoliers, and soon began to appear on occasion in principal mezzo-soprano roles of Iolanthe in Iolanthe, Phoebe Meryll in The Yeomen of the Guard, and Tessa in The Gondoliers.
She then transferred to the D'Oyly Carte Repertory Opera Company, appearing as Isabel, Vittoria, and Fleta in Iolanthe from September 1921 to February 1922.
In February 1922 she returned to the "New" Company as its principal mezzo following the departure of Winifred Downing. Her roles for the rest of the season were Iolanthe, Phoebe, Tessa, and Edith in The Pirates of Penzance. In 1922-23 The Mikado replaced Iolanthe in the "New" Company repertoire, with Miss Philo taking Pitti-Sing in the new opera. During May 1923 she made a brief emergency detour to the main Repertory Company as Phoebe in Yeomen.
Miss Philo remained with the "New" Company until December 1925, when she left the Carte organization. Her roles for her last two-and-a-half seasons were Hebe in H.M.S. Pinafore (July 1923-June 1925), Iolanthe in Iolanthe (July 1923-June 1924 and July-December 1925), Pitti-Sing in The Mikado (July 1923-December 1925), Tessa in The Gondoliers (July 1923-June 1924), Mad Margaret in Ruddigore (July 1924-December 1925), Phoebe in Yeomen (July 1924-June 1925), and Lady Angela in Patience (July-December 1925).
Margaret Philo was married to a career Royal Navy Captain. Her own career as a professional actress ended when she left the D'Oyly Carte organization. While devoting the bulk of her energies thereafter to raising her two children, she and her husband also found time to stage amateur Gilbert and Sullivan productions with Navy personnel.
---
P-Q Index | "Who Was Who" Homepage
---