THE D'OYLY CARTE OPERA COMPANY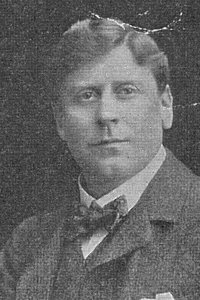 John C. Piddock
John C. Piddock (1885, 1887)
[Born 1863, died London 3 Dec 1919]
John Charles Piddock was best remembered in his day for his portrayal of Vincent A. Evelyn in the British provincial productions of the musical comedy The Lady Slavey in the mid-1890s. He got his start, however, with the D'Oyly Carte organization as a baritone chorister a decade earlier. Piddock served with Mr. D'Oyly Carte's "E" (1885) and "C" (1885 and 1887) Companies, and in August 1887 filled in briefly for George Temple as Sir Despard Murgatroyd in the first provincial production of Ruddigore.
In 1886, between his D'Oyly Carte engagements, he found work in the chorus of Ivan Caryll's comic opera The Lily of Leoville. It was produced at the Grand Theatre, Birmingham, on May 3, 1886, under the management of Violet Melnotte, and brought to the Comedy Theatre, London, a week later for a run of 41 perfomances, ending June 25 of that year.
He later appeared on tour in a musical extravaganza The Thirty Thieves (1901), and in London as Prince Timdot in the musical play Hidenseek (Globe, 1901-02), before going to Australia where, as Charles Piddock, he was involved in a record-setting run at the Princess Theatre, Melbourne, in A Chinese Honeymoon. He toured Australia and New Zealand for several months with George Musgrove's Grand Comic Opera Company, appearing in New Zealand's first productions of Victor Herbert's The Fortune-Teller (August 1903) and The Serenade (September 1903).
---
P-Q Index | "Who Was Who" Homepage
---