THE D'OYLY CARTE OPERA COMPANY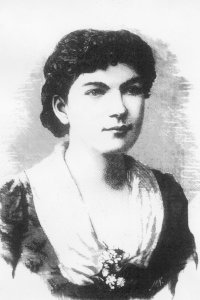 Ethel Pierson
Ethel Pierson (1879-81, 1882, 1885-87)
[Born Glasgow c.1862, died 5 Feb 1892]
Ethel Pierson began her performing career as a successful concert singer in Liverpool. She made her dramatic debut at age 17 with D'Oyly Carte's touring Comedy Opera Company as Josephine in H.M.S. Pinafore in June 1879. Two months later the Company was renamed Mr. D'Oyly Carte's "Second 'Pinafore' Company," following the split between Gilbert, Sullivan, and Carte on one side and the Comedy Opera Company's directors on the other. She left in December of that year, probably to work in pantomime, but rejoined in March 1880, again as Josephine. She toured with the Company (known as "A" Company from August 1880 and "B" Company from March 1881) as Josephine in Pinafore and (from March 1881) Aline in The Sorcerer, until September 1881, when she took a six-month leave of absence.
Miss Pierson rejoined the D'Oyly Carte organization in March 1882 to tour as Patience with Mr. D'Oyly Carte's No. 1 "Patience" Company, a role she sustained through December of that year when she left the Carte organization again.
Over the next several years she appeared in pantomime as Cinderella on at least three occasions. She also found work in London in the comic operas Dick (Globe, Gaiety, and Empire Theatres, 1884) and Dr. D (Royalty, 1885). She returned to the D'Oyly Carte fold once more in August 1885 as Yum-Yum in The Mikado with Mr. D'Oyly Carte's "D" Company. This tour of the British Isles lasted until April 1887. When the Company left for the European Continent that month Miss Pierson was not with them.
---
P-Q Index | "Who Was Who" Homepage
---