THE D'OYLY CARTE OPERA COMPANY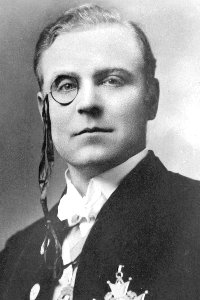 Sidney Pointer as Earl Tolloller in Iolanthe
Sidney Pointer (1923-26)
[Born 18 Apr 1889, died 16 May 1955]
Tenor Sidney Pointer made his London Stage debut in 1922 in grand opera, appearing at the Old Vic in Cavalleria Rusticana, Faust, Don Giovanni, Martha, Rigoletto, and Lohengrin, before joining the D'Oyly Carte Opera Company in 1923.
He first appeared with the D'Oyly Carte "New" Opera Company in October 1923 as Earl Tolloller in Iolanthe before joining the main (Repertory) company later that month. Over the next nine months he played regularly as Ralph Rackstraw in H.M.S. Pinafore, the Duke of Dunstable in Patience, Tolloller in Iolanthe, Colonel Fairfax in The Yeomen of the Guard, and Marco in The Gondoliers, and on occasion as Nanki-Poo in The Mikado.
He remained with the D'Oyly Carte Repertory Opera Company through July 1926. For his last two seasons (1924-26) he appeared as the Defendant in Trial by Jury, Ralph, Tolloller, Cyril in Princess Ida, Fairfax, Marco, and (for the 1925-26 season only) as Frederic in The Pirates of Penzance.
In 1927-28 he was Sid-el-Kar in a Drury Lane revival of The Desert Song that ran for 432 performances. He appeared in London sporadically over the next fifteen years in The Desert Song again (Alhambra, 1931), The Chocolate Soldier (Shaftesbury, 1932), The Desert Song yet again (Coliseum and Daly's, 1936-37), Under Suspicion (Playhouse, 1938-39), The Desert Song one last time (Prince of Wales's, 1943), and Magic Carpet (Princes, 1943).
---
P-Q Index | "Who Was Who" Homepage
---