THE D'OYLY CARTE OPERA COMPANY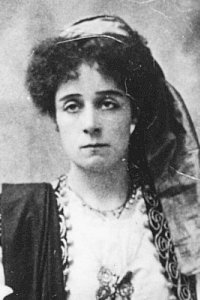 Jessie Pounds as Inez in The Gondoliers
Jessie Pounds (1882-83, 1885-87, 1897-1901)
[Born Lambeth, c.1862]
Jessie Louise Gaston-Murray appeared with the D'Oyly Carte Opera Company at various times as Jessie Louise, Jessie Gaston, and (following her marriage to D'Oyly Carte tenor Courtice Pounds) as Jessie Curtice and Jessie Pounds. She was the sister of fellow D'Oyly Carte artists Blanche Gaston-Murray and Ethel Murray.
Her first named role was Iolanthe with Mr. D'Oyly Carte's No. 2 "Iolanthe" Opera Company, from December 1882 to October 1883. She was billed as Jessie Louise, and it is assumed she left the Company in October when she was replaced by Millie Vere (who was promoted from the small part of Leila).
From February to May 1885 she toured with Mr. D'Oyly Carte's "D" Company as Jessie Gaston, playing Trial by Jury, The Sorcerer, and The Pirates of Penzance. Her only named part was First Bridesmaid in Trial. From August 1885 to May 1886 she was a member of the chorus with Carte's First American Mikado Company in New York and Boston. From June 1886 to January 1887 she was a chorister on Carte's first Continental tour, and from February to April 1887 a chorister with Carte's First American Ruddygore Company in New York. Her next role, as Jessie Curtice, was Lady Saphir in Patience with Mr. D'Oyly Carte's "D" Company on tour of the British provinces from September to December 1887.
We then lose track of her for nearly a decade. When she turns up again it's as Jessie Pounds in the Savoy chorus for the 1897 revival of The Yeomen of the Guard. By then a contralto, she would remain at the Savoy until at least November 1901. Her regular named parts were Inez in The Gondoliers (March-May and July-September 1898), "Moon-upon-the-Waters" in The Rose of Persia (November 1899-June 1900), and Tee-Thing in The Willow Pattern (November 1901). She also filled in for Ethel McAlpine as Mrs. Partlett in The Sorcerer (October 1898) and replaced Miss McAlpine for the last week of the run in December. She also filled in on occasion for Rosina Brandram as "Dancing Sunbeam" in The Rose of Persia, Ruth in The Pirates of Penzance (August-September 1900), and Lady Jane in Patience (March 1901).
---
P-Q Index | "Who Was Who" Homepage
---