THE D'OYLY CARTE OPERA COMPANY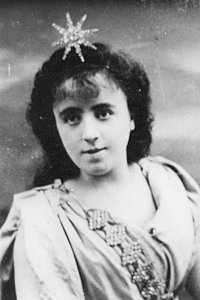 Nancie Pounds in Iolanthe
Nancie Pounds (1887-88, 1893-95, 1901-03)
[Born Chelsea 20 Nov 1866]
Fanny Elizabeth (Nancie) Pounds made what may have been her D'Oyly Carte debut in the chorus of Ruddygore at New York's Fifth Avenue Theatre from February to April 1887. She returned to Great Britain with the Company, where she toured with D'Oyly Carte's "E" Company from August 1887 until August 1888, appearing as Pitti-Sing in The Mikado (August-December 1887), Hebe in H.M.S. Pinafore (December 1887-June-1888), and Isabel in The Pirates of Penzance (April 1888-August 1888).
Five years later she returned to the "E" Company program, taking the small part of Phylla in the first provincial production of Utopia Limited from December 1893 through March 1895. From February to August 1895 she appeared as Zitella in The Chieftain. She probably sang in the chorus for other operas in the Company "E" repertoire during the 1890s.
Her third engagement in a named part, also on tour with Company "E," was as Kathleen in The Emerald Isle, from July to December 1901. She then transferred to the main Company at the Savoy where she was in the chorus for the first revival of Iolanthe (December 1901-March 1902), and played the fairy Cobweb in the first production of Hood & German's A Princess of Kensington (January-May 1903).
Nancie Pounds was one of five siblings who appeared with the D'Oyly Carte Opera Company. Her brother Courtice was a principal tenor in the 1880s and '90s, and she had three sisters (Lily, Louie, and Rosy) who appeared with D'Oyly Carte companies. She was married to D'Oyly Carte baritone William H. Kemble, who appeared with the Company on tour between 1888 and 1895.
---
P-Q Index | "Who Was Who" Homepage
---