THE D'OYLY CARTE OPERA COMPANY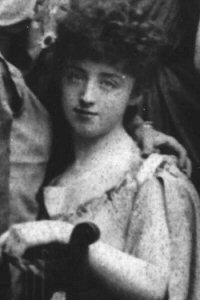 Rosy Pounds in Patience
Rosy Pounds (1887-88, 1889-92)
[Born Greenham 24 Dec 1869]
Rowena Emily (Rosy) Pounds was a chorister with D'Oyly Carte's First American Ruddygore Company that played New York from February to April 1887, and another Carte Company toured Germany, Austria, and Holland with The Mikado and Patience from April to 1887 to February 1888. She later joined the D'Oyly Carte chorus at the Savoy for the first productions of The Gondoliers (December 1889-June 1891) and The Nautch Girl (June 1891-January 1892).
The only time her name appeared in a London program was as one of the three genies in a single matinee performance of Mozart's Il Flauto Magico (Olympic, November 3, 1892).
She was one of five siblings who appeared with the D'Oyly Carte Opera Company. Her brother Courtice was a principal tenor in the 1880s and '90s, and she had three sisters (Lily, Louie, and Nancy) who appeared with D'Oyly Carte companies.
---
P-Q Index | "Who Was Who" Homepage
---