THE D'OYLY CARTE OPERA COMPANY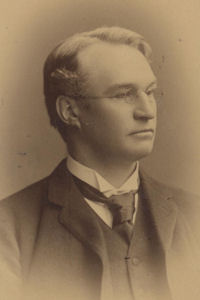 Richard Purdon
Richard Purdon (1881-83)
Richard Purdon was Reginald Bunthorne in Patience on tour with Mr. D'Oyly Carte's No. 2 "Patience" Company from December 1881 to February 1883, when he was succeeded in the part by Albert James. It was Purdon's only engagement with the D'Oyly Carte organization.
A decade later, Purden, by then a legitimate actor, made his London Stage debut as Sir Giles Wapshot in Boys Will Be Boys (Strand, 1894). Over the next five years, Purden appeared in a number of plays including The Girl I Left Behind Me (Adelphi, 1895), The Swordsman's Daughter (Adelphi, 1895), Tommy Atkins (Duke of York's, 1895), The Colleen Bawn (Princess's, 1896), An Irish Gentleman (Globe, 1897), Trelawny of the "Wells" (Court, 1898), His Excellency the Governor (Court, 1898), and Sweet Lavender (Terry's, 1899).
We then loose track of Purdon until 1913. Between 1913 and 1916 an actor named Richard Purdon, possibly the same gentleman, appeared in at least eight silent films, including The School for Scandal, in which he played Mr. Crabtree.
---
P-Q Index | "Who Was Who" Homepage
---