THE D'OYLY CARTE OPERA COMPANY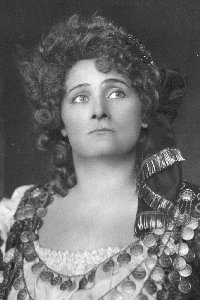 Louie Rene as Ruth in The Pirates of Penzance
Louie Rene (1894-1901, 1903, 1906-07, 1908-09, 1910-14)
[Born London c.1872, died Malvern 9 Mar 1955]
Louie Rene was a principal contralto with the D'Oyly Carte for sixteen of the twenty years between 1894 and 1914. She began on tour with D'Oyly Carte Opera Company "E" as Lady Sophy in Utopia Limited in March 1894, transferred to a newly-formed Company "A" in July of that year in the same role, then returned to Company "E" that December. By then Company "E" was playing H.M.S. Pinafore as well as Utopia and Miss Rene was Little Buttercup in the new opera.
She toured with Company "E" until December 1901, appearing in all their principal contralto roles:Sophy (December 1894-March 1895), Buttercup (December 1894-March 1895, July 1897-February 1900), the Marquise de Montigny in Mirette (January-February 1895), Inez de Roxas in The Chieftain (February-August 1895), the Lady Jane in Patience (May 1895-February 1896, January-June 1901), the Duchess of Plaza-Toro in The Gondoliers (August 1895-February 1896, July 1896-July 1897), Katisha in The Mikado (July 1896-February 1900), Baroness von Krakenfeldt in the first provincial production of The Grand Duke (March 1896-April 1897), Lady Sangazure in The Sorcerer (June 1897-June 1898, January-April 1899, January-February 1900), Dame Carruthers in The Yeomen of the Guard (January 1898-February 1900), Lazuli in The Lucky Star (February-November 1899), Lady Vernon in Haddon Hall (October-November 1899), "Dancing Sunbeam" in The Rose of Persia (February 1900-June 1901), and the Countess of Newtown in The Emerald Isle (July-December 1901).
After taking a year away from the Company, Miss Rene returned to Company "E" in March 1903, appearing as Buttercup, Katisha, Dame Carruthers, and (from September) the Duchess of Plaza-Toro. She left the D'Oyly Carte Opera Company in December 1903 when Company "E" disbanded.
After three years away, Miss Rene was lured back by D'Oyly Carte for the First London Repertory Season at the Savoy (December 1906-August 1907), again in all the lead contralto roles:Dame Carruthers, the Duchess, Lady Jane, and the Queen of the Fairies in Iolanthe. Following another break, she returned to the Savoy for the Second London Repertory Season (April 1908-March 1909) as Katisha, Buttercup, the Fairy Queen, Ruth in The Pirates of Penzance, the Duchess, and Dame Carruthers.
After another year away she went on tour with the D'Oyly Carte Principal Repertory Opera Company from March 1910 until December 1914, appearing each year as Buttercup, Ruth, Jane, Queen of the Fairies, Lady Blanche in Princess Ida, Katisha, Dame Carruthers, and the Duchess. She left the D'Oyly Carte organization for good in December 1914 and was replaced by Bertha Lewis.
Miss Rene later performed on tour in musical comedy, appearing in Gay Trouville in 1919, and A Waltz Dream toward the end of her career. She was the sister-in-law of Savoyard H. Scott Russell.
---
R Index | "Who Was Who" Homepage
---