THE D'OYLY CARTE OPERA COMPANY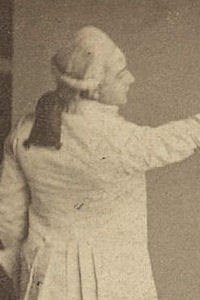 Lin Rayne as Benjamin Backbite in A School for Scandal
Lin Rayne (1879)
[Born Calcutta, India c.1838, died London 5 Nov 1886]
John Charles Lin Rayne had a career as a legitimate actor that extended from 1868, when he made his London debut as Faulkner in Lord Lytton's drama The Rightful Heir at the Lyceum, until at least 1883, when he player Master Waller in The Love Chase at the Adelphi.
He created the roles of Marquis d'Arcis in Fernande (St. James's, 1870), Jones in Two Thorns (St. James's, 1871), and Tom in Apple Blossoms (Vaudeville, 1871). Among his more popular parts was Sir Benjamin Backbite in The School for Scandal:he appeared in that role at the Prince of Wales's (1874), the Vaudeville (1880), and the Adelphi (1881).
Rayne was engaged briefly by Richard D'Oyly Carte to play Captain Beaumont in a one-act "comedietta" called The Love Test, which served as curtain raiser for H.M.S. Pinafore with Carte's "Second London" Company on tour in September and October 1879. It was his only experience with the D'Oyly Carte organization.
---
R Index | "Who Was Who" Homepage
---