THE D'OYLY CARTE OPERA COMPANY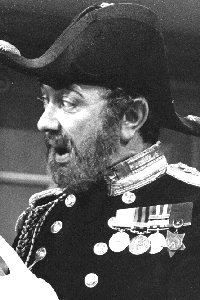 Michael Rayner as Captain Corcoran in H.M.S. Pinafore
Michael Rayner (1971-79)
[Born Derby 6 Dec 1932, died 13 Jul 2015]
Michael Rayner studied at the Birmingham School of Music before joining Welsh National Opera's "Opera for All" where he toured for two years in such roles as Figaro in The Barber of Seville, Sharpless in Madam Butterfly, and Frank in Die Fledermaus.
He joined the D'Oyly Carte Opera Company in October 1971 as principal baritone initially appearing as Mr. Cox in Cox and Box, Counsel for the Plaintiff in Trail By Jury, Captain Corcoran in H.M.S. Pinafore, Samuel in The Pirates of Penzance, Strephon in Iolanthe, and Giuseppe in The Gondoliers.
In September 1972 he swapped Samuel for the Sergeant of Police in Pirates, and, later that season appeared for the first time as Pish-Tush in The Mikado. He added Pish-Tush to his regular duties in 1973, and Guron in Princess Ida when that opera was revived briefly in December 1974. During the 1975 Centennial Season at the Savoy he was Mr. Goldbury Utopia Limited and sang Dr. Tannhäuser in the special concert performance of The Grand Duke.
In September 1975 he gave up the Counsel in Trial but added the Lieutenant of the Tower in The Yeomen of the Guard. When Cox and Box and Princess Ida were restored to the repertoire in February 1977 he swapped Cox for Sergeant Bouncer in the former and was promoted to the leading bass-baritone role of Arac in Ida.
After leaving the D'Oyly Carte Rayner worked with several Gilbert & Sullivan companies, appearing as the Usher and Learned Judge (Trial by Jury), Doctor Daly (Sorcerer), Dick Deadeye (Pinafore), General Stanley and the Sergeant (Pirates), Major Murgatroyd (Patience), Private Willis (Iolanthe), the Mikado and Pooh-Bah (The Mikado), Sir Roderic Murgatroyd (Ruddigore), Sergeant Meryll (Yeomen), and as well as directing, coaching, and conducting master classes.
Rayner may be heard on D'Oyly Carte recordings of The Mikado (Pish-Tush, 1973), Iolanthe (Strephon, 1974), Trial by Jury (Counsel, 1975), Utopia Limited (Mr. Goldbury, 1976), The Grand Duke (Dr. Tannhäuser, 1976), The Gondoliers (Giuseppe, 1977), Cox and Box (Bouncer, 1978), and The Yeomen of the Guard (Lieutenant). He also appeared in the 1973 video production of H.M.S. Pinafore as Captain Corcoran.
He also appeared in opera (The Marriage of Figaro) and oratorio (Elijah, The Messiah, St. John Passion, the Mozart Requiem, and Bach and Haydn masses).
---
R Index | "Who Was Who" Homepage
---