THE D'OYLY CARTE OPERA COMPANY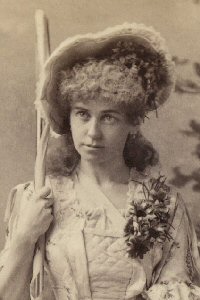 Sallie Reber as Phyllis in Iolanthe
Sallie Reber (1880, 1882-83)
[Born Sandusky, Ohio 20 May 1850, died Carlstadt, New Jersey 10 Mar 1885]
Sallie Reber was a popular singer on the New York concert stage (1876-77) before making her operatic debut there in The Bohemian Girl with Ruben's Grand English Opera Company (Grand Opera House, April 1878). The following year she appeared at the Fifth Avenue Theatre as Princess Lydia in Fatinitza (April-May 1879).
In February 1880 she made her D'Oyly Carte debut as Mabel in Philadelphia with Carte's Second American Pirates of Penzance Company. When the Second Company took up H.M.S. Pinafore on April 12, she was Josephine in the nautical opera. When the Second Company left Philadelphia on April 24, Miss Reber took over as Mabel with the First Company, appearing in that role when they returned to New York in May and, it appears, for the balance of the tour, ending in Chicago on June 19.
Over the next few years she appeared regularly in comic opera, including non-D'Oyly Carte revivals of The Pirates of Penzance in Brooklyn (November 1880) and Manhattan (March 1882).
Miss Reber returned to the D'Oyly Carte in October 1882 in the dual roles of Gretchen and Alice Van Winkle in Planquette's Rip Van Winkle at New York's Standard Theatre. On November 25, 1882, at the same theatre, she appeared as Phyllis with Carte's First American Iolanthe Company just a few hours after Leonora Braham had created the part in London. Iolanthe ran at the Standard until February 1883, but Miss Reber, reportedly ill, was replaced as Phyllis in January with Adelaide Randall who had played the part with a Second Carte Company in Philadelphia.
Miss Reber's last appearance in New York appears to have been in a concert at the Casino in March 1884. In May of that year she may have been secretly married to 65-year old James Dean Fish, president of the Marine National Bank. (Her first husband, Franklin F. R. Laing, had died in October 1883.) Earlier that month, however, a financial disaster had forced closure of the bank. The bank had underwritten a speculative brokerage scheme set up by Ferdinand Ward and U. S. Grant, Jr., the son of former President U. S. Grant. When the venture failed, Fish was disgraced. Sallie returned to her family home in Sandusky, Ohio, from time to time, and on one occasion in August 1884 appeared as Patience in a military benefit performance of Gilbert & Sullivan's aesthetic opera there, an event attended by Fish. In early February 1885 she relocated to a small village in New Jersey and quietly gave birth to a daughter on February 24. The birth took place in a secretive manner as well. The child's father's name was initially recorded as Franklin Laing (a singular circumstance, given Laing's death 18 months earlier), and the mother's as Nellie Reber. Sallie died a fortnight later, reportedly of a chronic gastric condition aggravated by overindulging on oranges, stewed clams, and ginger ale, though complications from childbirth may well have been a factor.
The circumstances of Sallie Reber's death were not immediately known to the public. Obituaries published in March referred to her as Sallie Reber Laing, and made no mention of her child, or of Fish. It wasn't until May of that year that the story of her relationship with Fish and the birth of her daughter (and the discrepancies in the birth record) were revealed. By then, Fish was in the Ludlow Street Jail awaiting sentencing for his part in the Ward-Grant scheme. The story of Sallie Reber's death, and the questions surrounding the baby and the relationship with Fish, were major news from Ohio to New York. It was a front page story in The New York Times for three consecutive days. Fish eventually admitted the secret wedding and acknowledged that he was the father of Sallie's child. The child, thenceforth known as Alice Reber Fish, lived with Fish and a daughter by a previous marriage in Brooklyn at least though the 1910 census and probably until Fish's death in 1912. For a fuller account of Sallie's life and career, see "Secrets and Lies: The Tragic Life and Mysterious Death of D'Oyly Carte Soprano Sallie Reber" in the Sir Arthur Sullivan Society Magazine, Number 60, Spring 2005.
---
R Index | "Who Was Who" Homepage
---