THE D'OYLY CARTE OPERA COMPANY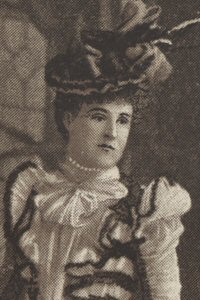 Ina Repton
Ina Repton (1896)
Regina Repton was a protegee of W. S. Gilbert's who appeared briefly in the D'Oyly Carte chorus at the Savoy in the July 1896 revival of The Mikado and perhaps in The Grand Duke as well. After leaving the D'Oyly Carte she played a small role in Gilbert's play The Fortune Hunter (Theatre Royal, Birmingham, September-October 1897).
She also appeared as a chorister in Trial by Jury at benefit matinees at the Gaiety (June 6, 1896), Lyceum (December 3, 1896), and Drury Lane (March 17, 1898) Theatres--all productions in which Gilbert played the Associate.
Her subsequent London roles were Mrs. Godfrey Snape in Charles Brookfield's comedy Kenyon's Widow (Comedy, May-June 1900), Cynisca in Gilbert's Pygmalion and Galatea (Comedy, June-July 1900), and Mrs. Wynning in Arthur Wing Pinero's Iris (Garrick, September 1901-January 1902).
---
R Index | "Who Was Who" Homepage
---