THE D'OYLY CARTE OPERA COMPANY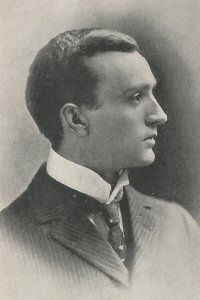 George Ridgwell
George Ridgwell (1899-1900)
[Born Woolwich, Kent 29 Oct 1867, died Hampstead 1935]
Before joining the D'Oyly Carte organization George Ridgwell was co-author, manager, and leading actor of a musical comedy called The Skirt Dancer, produced on a provincial tour in 1898.
Ridgwell toured briefly with D'Oyly Carte Opera Company "D" between July and September 1899, appearing as George Vernon in Haddon Hall. He may also have had a role in The Lucky Star. He then transferred to the Savoy where he created the part of Abdallah in the first production of Hood & Sullivan's The Rose of Persia (November 1899). He played Abdallah until June 1900 when he was replaced by Jones Hewson. Ridgwell then went on tour with D'Oyly Carte Opera Company "D" (a repertory company), appearing as Captain Corcoran in H.M.S. Pinafore, Samuel in The Pirates of Penzance, the Earl of Mountararat in Iolanthe, Arac in Princess Ida, the Mikado of Japan in The Mikado, Sergeant Meryll in The Yeomen of the Guard, and Giuseppe in The Gondoliers until December of that year when he left the D'Oyly Carte.
In 1903 he appeared in London in The M.I. (Mounted Infantry), a "musical incident" to which he also contributed lyrics (at the Comedy, Haymarket, and New Theatres), and Dolly Varden as Captain Belville (Avenue Theatre).
Ridgwell was later a screenwriter and silent film director. He directed approximately 70 films including a series of adaptations of the Sherlock Holmes stories.
---
R Index | "Who Was Who" Homepage
---