THE D'OYLY CARTE OPERA COMPANY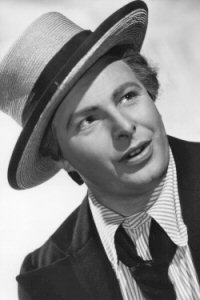 Joseph Riordan as Richard Dauntless in Ruddigore
Joseph Riordan (1956-63)
[Born Cardiff, Wales, died Tenerife 3 Feb 2011]
Tenor Joseph Riordan joined the D'Oyly Carte Opera Company chorus in May 1956. He took his first named part, First Yeoman in The Yeomen of the Guard, filling in John Fryatt on occasion during the two seasons spanning 1957-59. When Fryatt left the Company in November 1959 Riordan took over First Yeoman, and when Fred Sinden departed in January 1960 Riordan added Mr. Box in Cox and Box and Francesco in The Gondoliers to his duties.
In September 1960 Riordan advanced to principal tenor, appearing regularly during the 1960-61 season as Box, the Defendant in Trial by Jury, the Duke of Dunstable in Patience, Earl Tolloller in Iolanthe, Richard Dauntless in Ruddigore, and Colonel Fairfax in The Yeomen of the Guard (sharing Fairfax with Thomas Round until March 1961 when Round gave it up).
In September 1961 a new lead tenor, Philip Potter, was added to the lineup and Riordan found his repertoire reduced. He still played Box, the Defendant, and the Duke, but was demoted to Leonard Meryll in The Yeomen of the Guard, and by December had given up both Tolloller and Richard, though he filled in for Potter as Tolloller on occasion.
Clearly the third tenor in August 1962, Riordan began the season in America with Francesco in The Gondoliers as his only named part. He resumed Leonard when the Company returned to Britain in January 1963, and reclaimed the Defendant and Tolloller from Potter that month as well. He also substituted for Potter from time to time as Frederic in The Pirates of Penzance, and played Mr. Box in the two performances of Cox and Box given that season (in April). Riordan left the D'Oyly Carte Opera Company in August 1963. He may be heard on the D'Oyly Carte's 1961 recordings of The Gondoliers (as Francesco) and Cox and Box (as Box).
Riordan remained active in opera, appearing in the chorus of English National Opera as recently as 1986. The recipient of a Bachelor of Music degree at Cardiff, he has also composed several orchestral pieces as well as a mass. His compositions have won awards at music festivals.
---
R Index | "Who Was Who" Homepage
---