THE D'OYLY CARTE OPERA COMPANY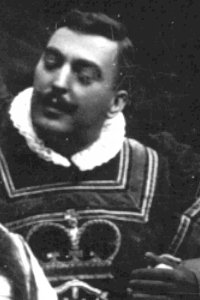 Pacie Ripple as Colonel Fairfax in The Yeomen of the Guard
Pacie Ripple (1889-90, 1903-07)
[Born Ecclesfield, Yorkshire 20 Apr 1864, died New York City 16 Apr 1941]
A tenor named Mr. Boole appeared as Colonel Fairfax in The Yeomen of the Guard on June 10, 1889, in Wigan with D'Oyly Carte's Opera Company "E." A local newspaper praised his performance saying "it was his first night with the company." Boole was likely a chorister and understudy, and he presumably returned to those duties later that month when Frank Tebbutt joined the cast as Fairfax.
Mr. Boole's next appearance in a named part under D'Oyly Carte management was as Francesco in The Gondoliers at New York's Palmer's Theatre in February 1890. He was one of many cast changes made after an unsuccessful opening at the Park Theatre the month before. While most of the Company returned to Britain when the run ended in April 1890, Arthur Boole remained in America, adopted the stage name of Arthur Pacie, and was shortly engaged by playwright and manager Charles Hoyt.
Between 1891 and 1897 he appeared regularly in New York and on tour in Hoyt's popular works--as Norman Blood in A Trip to Chinatown, Howland Hooper in A Milk White Flag, and Carroll Sweet in A Stranger in New York. After a tour of Australia and New Zealand, he returned to England in 1900. He was now using Pacie Ripple as his stage name, appearing thus in a single matinee performance of Original Musketeers at Drury Lane in the part of Athos, November 20, 1902, as well as in oratorio and concerts.
Ripple rejoined the D'Oyly Carte organization on tour as principal tenor in March 1903. For some reason, he was keeping his identity as a former member of the Company secret. With Carte's Company "E," later the D'Oyly Carte Repertory Opera Company, between March 1903 and December 1906, he appeared as Ralph Rackstraw in H.M.S. Pinafore, Frederic in The Pirates of Penzance, the Duke of Dunstable in Patience, Earl Tolloller in Iolanthe, Cyril in Princess Ida, Nanki-Poo in The Mikado, Fairfax in Yeomen, and Marco in The Gondoliers.
When the D'Oyly Carte Opera Company began its First London Repertory Season at the Savoy in December 1906 with The Yeomen of the Guard, Ripple was cast as Colonel Fairfax. He took Marco when The Gondoliers was revived in January 1907, but was replaced in both roles by Harold Wilde in February, returning to the Repertory Company on tour that month. He left the D'Oyly Carte for good in June 1907.
Ripple returned to America where he performed in musical comedy for a good number of years. He had roles in The Framer's Wife, The New Moon, So This in London, and Under Glass, and created the small part of Bishop Dodson in Cole Porter's Anything Goes (Alvin Theatre, 1934).
He maintained his interest in Gilbert & Sullivan, however, commuting from his New York home to Philadelphia where he served as stage director of the Savoy Company, America's oldest established Gilbert & Sullivan performing group, from 1932 until his death in 1941.
In 1938 and 1939, Ripple was interviewed by three Philadelphia newspapers and provided considerable biographical information and misinformation. We learn that before his first D'Oyly Carte engagement he worked for the Leeds Musical Festival director, was trained at the Guildhall School of Music, and made his operatic debut in Italy as the Duke in Rigoletto. His recollections of his D'Oyly Carte career, however, have clearly been embellished. He was not, as was claimed, a principal tenor at the Savoy for seven years, nor was he "Gilbert's assistant stage manager."
---
R Index | "Who Was Who" Homepage
---