THE D'OYLY CARTE OPERA COMPANY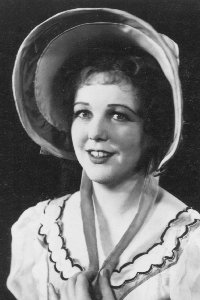 Helen Roberts as Mabel in The Pirates of Penzance
Helen Roberts (1938-48)
[Born Cleethorpes, Lincolnshire 1912, died Gillingham, Kent 12 Dec 2010]
Helen Roberts studied music in London before going to Italy to further her studies. There she appeared on tour with the Milan Opera Company, singing Norina in Donizetti's Don Pasquale. Returning to England, she appeared on tour as the Doll and Antonia in The Tales of Hoffman and was briefly associated with the Glyndebourne Festival Opera before joining the D'Oyly Carte Opera Company as principal soprano in September 1938.
She initially used the name Betty Roberts, but was shortly asked by Rupert D'Oyly Carte if she would mind changing her name (which Carte though sounded like the name of a soubrette). She informed him her real name was Helen, and so that name was decided upon. During her first season (1938-39) with the Company she appeared regularly as Josephine in H.M.S. Pinafore, Mabel in The Pirates of Penzance, Princess Ida in Princess Ida, Elsie Maynard in The Yeomen of the Guard, and Gianetta in The Gondoliers. Ida and Elsie were also played until December by Ann Drummond-Grant, and Gianetta was shared with Viola Wilson. Both Miss Drummond-Grant and Miss Wilson left before the end of the season.
Miss Roberts had Josephine, Mabel, Phyllis in Iolanthe, Elsie, and Gianetta to herself for the rest of her D'Oyly Carte career:until July 1947. She also appeared occasionally as Yum-Yum in The Mikado (in 1939, and again for parts of the 1945-46 season), and as Patience in Patience (for six weeks in July August 1946). Then, for her last season (1947-48), she yielded Phyllis to newcomer Margaret Mitchell.
Helen Roberts had married D'Oyly Carte baritone Richard Walker on July 31, 1944, and Walker's roles, too, were being cut back as new talent was joining the post-war D'Oyly Carte. So on July 31, 1948, they left the Company. They were engaged by J. C. Williamson Limited and toured Australia and New Zealand throughout the 1950s and early 1960s. When the Williamsons played Gilbert & Sullivan, as they did every five or six years, Miss Roberts sang her old familiar roles, as well as adding two (the Plaintiff in Trial by Jury and Rose Maybud in Ruddigore) to her repertoire. She also presented Gilbert & Sullivan with her husband in two-person entertainments throughout the United States and Canada.
---
R Index | "Who Was Who" Homepage
---