THE D'OYLY CARTE OPERA COMPANY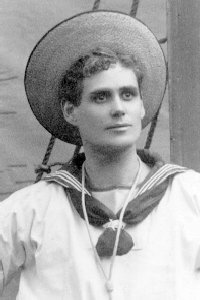 J. G. Robertson as Ralph Rackstraw in H.M.S. Pinafore
J. G. Robertson (1887-88)
[Born Valparaiso, Chile 14 Feb 1859, died Ickham, Kent 24 Oct 1940]
After studying at the Royal Academy of Music, tenor John Graham "Jack" Robertson made his London Stage debut as Balthazar in Henry Irving's 1882 Lyceum production of Much Ado About Nothing, in which he sang "Sigh No More, Ladies." He appeared in the same role with Irving in New York in 1884.
Robertson joined the D'Oyly Carte Opera Company at the Savoy in November 1887, following the departure of Durward Lely. He appeared as Ralph Rackstraw, Frederic, and Nanki-Poo in revivals of H.M.S. Pinafore (November 1887-March 1888), The Pirates of Penzance (March-June 1888), and The Mikado (June-September 1888). However, he was not considered suitable to create the part of Colonel Fairfax in The Yeomen of the Guard, and was replaced in the Savoy lineup by Courtice Pounds.
In 1889 Robertson went into partnership with composer Henry S. Parker and produced Parker's romantic opera Mignonette at the Royalty Theatre and on tour. Robertson starred as Vandyke and also directed. He made a few more appearances in London in the early 1890s, notably creating the part of Alfredo in Gilbert & Cellier's The Mountebanks at the Lyric, January-August 1892.
He then turned his attention to the concert stage, and in 1899 made a Berliner recording of "Sigh No More, Ladies." It may be heard on the Pearl 2-LP set "Art of the Savoyard: Volume II" (GEMM 282/3).
Though chiefly a concert singer in the 20th century, Robertson did return to the London Stage for a single matinee performance as Balthazar at the Garrick in October 1909.
---
R Index | "Who Was Who" Homepage
---