THE D'OYLY CARTE OPERA COMPANY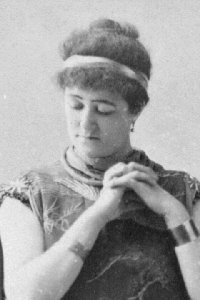 Augusta Roche as the Lady Jane in Patience
Augusta Roche (1880-82, 1882-83, 1885-86)
[Born London c.1854]
Augusta Roche first appeared in a D'Oyly Carte program with Mr. D'Oyly Carte's newly formed "B" (later "C") Company on tour as Ruth in the first provincial production of The Pirates of Penzance from October 1880 to August 1881. She then traveled to America, where she was the Lady Jane with Carte's American Patience Company at New York's Standard Theatre (September 1881-March 1882).
After Carte's Patience ran its course at the Standard, Miss Roche remained in America, appearing in comic opera in New York and elsewhere. She was Ruth in a revival of The Pirates of Penzance at New York's Bijou Opera House (March-April 1882), and Jane again in an unsanctioned Patience with Lillian Russell in the title role (Fifth Avenue and on tour, June-July 1882).
She returned to the D'Oyly Carte Opera Company and the Standard as Queen of the Fairies with Carte's First American Iolanthe Company (November 1882-January 1883). She continued to appear in Gilbert & Sullivan (non-D'Oyly Carte) afterwards, appearing in the same role at the Fifth Avenue in March, and as Jane yet again at the Standard in late March and early April 1883.
Her third engagement with D'Oyly Carte Opera Company came in November 1885, as Katisha with Carte's Third American Mikado Company on a tour in New England managed by John Stetson. Miss Roche transferred to Carte's Fourth American Mikado Company in December in the same role, appearing as Katisha at least until February 1886.
She returned to the New York Stage again for a fortnight in August-September 1891, appearing at Niblo's Theatre in an opera called The Khedive.
---
R Index | "Who Was Who" Homepage
---