THE D'OYLY CARTE OPERA COMPANY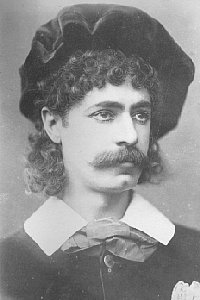 Arthur Rousbey as Archibald Grosvenor in Patience
Arthur Rousbey (1878-79, 1880-83, 1885)
[Died at sea 29 Oct 1899]
Arthur Rousbey joined the Comedy Opera Company Ltd. on tour in March 1878 for the first provincial production of The Sorcerer, along with Trial by Jury. He appeared as Sir Marmaduke Pointdextre in Sorcerer and the Counsel for the Plaintiff in Trial until August 10, 1878, when the Company took a short break to prepare for the first provincial production of H.M.S. Pinafore, launched September 9. Rousbey took the part of Dick Deadeye. He toured as Sir Marmaduke and Deadeye until December 1878 when the tour ended. The Company was revived briefly in April 1879, when they presented Pinafore to audiences in Liverpool and Birmingham for seven weeks, with Rousbey again as Deadeye.
He then joined Carte's newly formed "B" Company on tour as Deadeye in June 1879, but when the split occurred between D'Oyly Carte and the directors of the Comedy-Opera Company at the end of July 1879, the directors decided to stage their own rival production of H.M.S. Pinafore in London at the Imperial Theatre, and lured Rousbey from the touring company to join them as their Dick Deadeye. The rival Pinafore ran a month at the Imperial before transferring to the Royal Olympic, ultimately closing in October for lack of public support. Rousbey was Deadeye for the duration. He also shared the part of Old Matthew in the afterpiece Breaking the Spell.
Despite his defection to the rival Pinafore Company, Rousbey soon rejoined the D'Oyly Carte organization, appearing as Sir Marmaduke and Deadeye with Carte's "D" Company from March to July 1880, when he swapped Deadeye for Captain Corcoran in Pinafore. He appeared as Sir Marmaduke and the Captain with "D" Company until December, when he transferred to Carte's "A" Company:touring H.M.S. Pinafore as the Captain. "A" Company was redesignated as "B" Company in March 1881 when The Sorcerer was restored to the repertoire, and Rousbey once more took up Sir Marmaduke.
Rousbey next transferred to Mr. D'Oyly Carte's newly formed "D" Company as Archibald Grosvenor in Patience, beginning August 1, 1881. The tour ended in December of that year, but by March 1882 he'd been engaged again as Grosvenor for Mr. D'Oyly Carte's No. 1 'Patience' Company, touring until August, at which point he headed for America.
In New York in October 1882, he appeared in the dual roles of Hans van Slous and Captain Henrick Hudson for D'Oyly Carte in Planquette's Rip Van Winkle at New York's Standard Theatre. Rousbey was then assigned to play Strephon with D'Oyly Carte's Second American Iolanthe Company at the Lyceum Theatre, Philadelphia, for six weeks beginning December 5, 1882. By late January 1883 he had probably joined the First Iolanthe Company in New York. We do know that on January 24, 1883, he appeared (probably as Sergeant Bouncer) in a benefit performance of Cox and Box at the Standard.
By March 1883 Rousbey was back in Britain, having rejoined Mr. D'Oyly Carte's No. 1 'Patience' Company as Grosvenor. He toured in the role until September 1883 when he left the Company. He would appear with the D'Oyly Carte one last time in June 1885, when he filled in briefly for Furneaux Cook as Dick Deadeye with Mr. D'Oyly Carte's "C" (Repertory) Company.
Rousbey later toured in Belphegor (South Shields, October 1889), and went on to form his own company which played Robertson & Talbot's Wapping Old Stairs and Planche's Massaroni in 1894. He then formed the Arthur Rousbey Grand English Opera Company, touring the provinces and, in 1899, South Africa. Rousbey never made it back to England, dying at sea in the Atlantic in October 1899.
---
R Index | "Who Was Who" Homepage
---